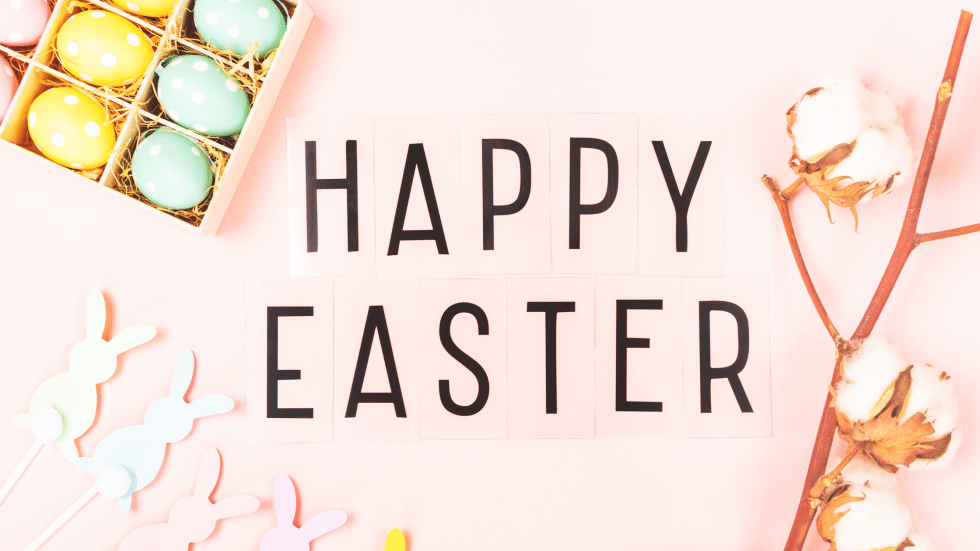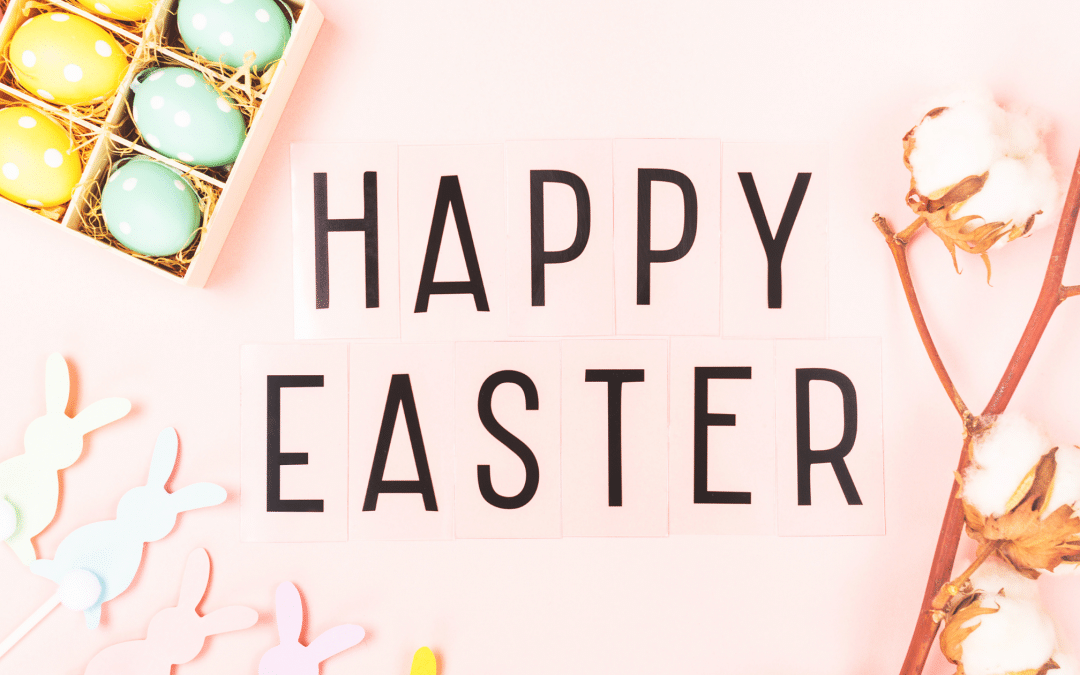 Easter is right around the corner and after a year of COVID-19 related restrictions and lockdowns, shoppers are looking forward to celebrating safely with their friends and family. As a result, retail owners can expect to see an increase in sales.
Considering factors such as positive trends in vaccinations, new stimulus funds, as well as growing consumer confidence, the NRF's annual Easter survey indicates that there is a lot of momentum going into the Spring. This momentum is reflected in consumer spending as 79% of shoppers are expected to celebrate, spending an average of $179.70.
Below, we've prepared some tips to help you gear up for the Easter holiday weekend and make the most of this year's consumer spending habits.
1. Offer Discounts and Promotions
While not every shopper plans to celebrate, plenty of them will still be on the lookout for Easter related sales. According to the NRF, more than half (52 percent) of those who don't celebrate Easter still plan to take advantage of these deals and expect to spend an average of $21.11.
To tempt more shoppers to buy from your store, consider discounting your best selling items. You can even set up a dedicated landing page or section on your website/e-commerce site so shoppers can easily browse through sale or seasonal items.
For example, Mastermind Toys set up an Easter landing page encouraging consumers to shop their Easter merchandise.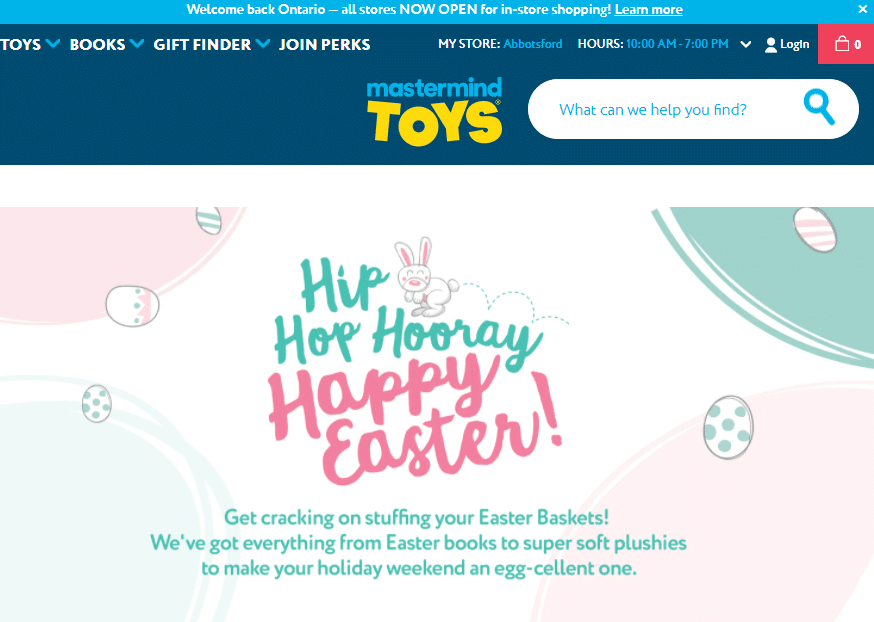 2. Reposition Your Products for Easter
Don't sell chocolate or Easter related products? That's ok – you don't have to sell Easter merchandise to benefit from the holiday.
You can always position your products for Easter by finding a unique angle. For example, The Body Shop encouraged customers to celebrate the holiday by treating their loved ones and themselves with their nature inspired products.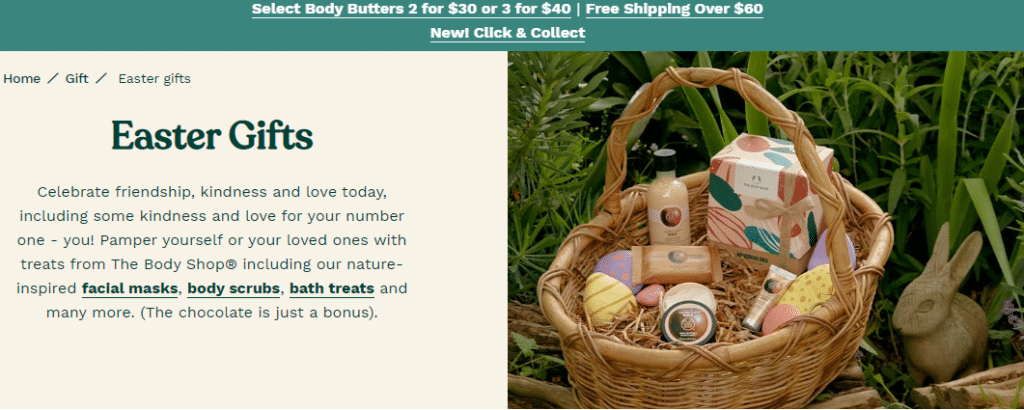 Bath and Body Works did something similar with their slogan "Gifts For Every Bunny (And Basket)".

3. Launch Retargeting Campaigns
It may be a good idea to attract old visitors back to your website with Easter offers and promotions. You can do so with Facebook retargeting ads.

By setting up your Facebook pixel on your website or ecommerce store, you can present different offers based on shoppers' interaction with your site. The idea is to retarget past users based on their buying intent (e.g. visitors who added to their cart vs shoppers that initiated checkout).
If you are using TAKU eCommerce, click here to find out how to set up your Facebook pixel on your ecommerce site.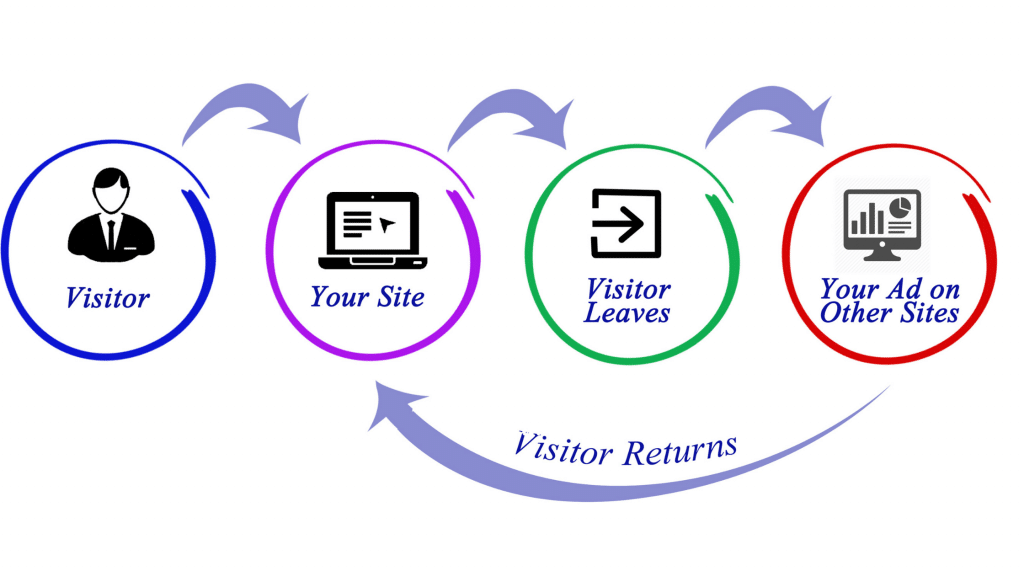 4. Promote Popular Fulfillment Options
While pandemic related restrictions and lockdowns are easing in some regions, many consumers still prefer popular fulfillment options such as buy online pick-up in-store (BOPIS), local delivery, and shipping.
You can encourage shoppers to purchase their Easter gifts safely by highlighting some of these fulfillment options on your website. For example, Indigo's home page calls attention to the fact that shoppers can purchase their Easter items safely with a BOPIS option.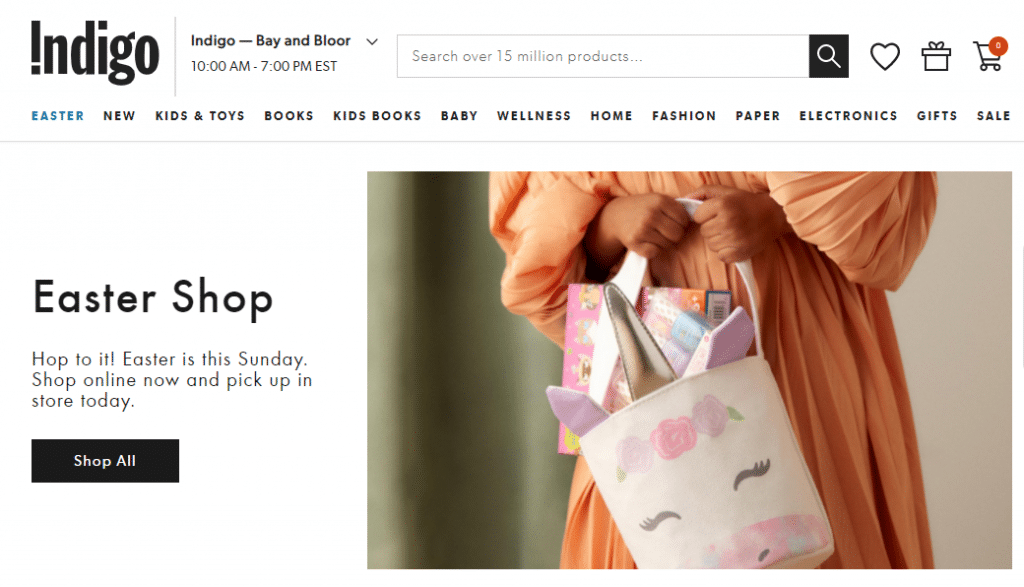 5. Launch a Giveaway on Social Media
An Easter giveaway on social media can be done with little effort and a minimal budget. For instance, you could do a classic giveaway by asking participants to tag a loved one in the comments.
Or you could do something directly related to Easter by asking your followers to guess how many Easter eggs are in a basket. Alternatively, you can apply this concept to one of your products (e.g. making followers guess the weight of chocolate, the amount of beads in a necklace etc.).
Consider boosting your social media giveaway to widen your reach and increase the number of participants.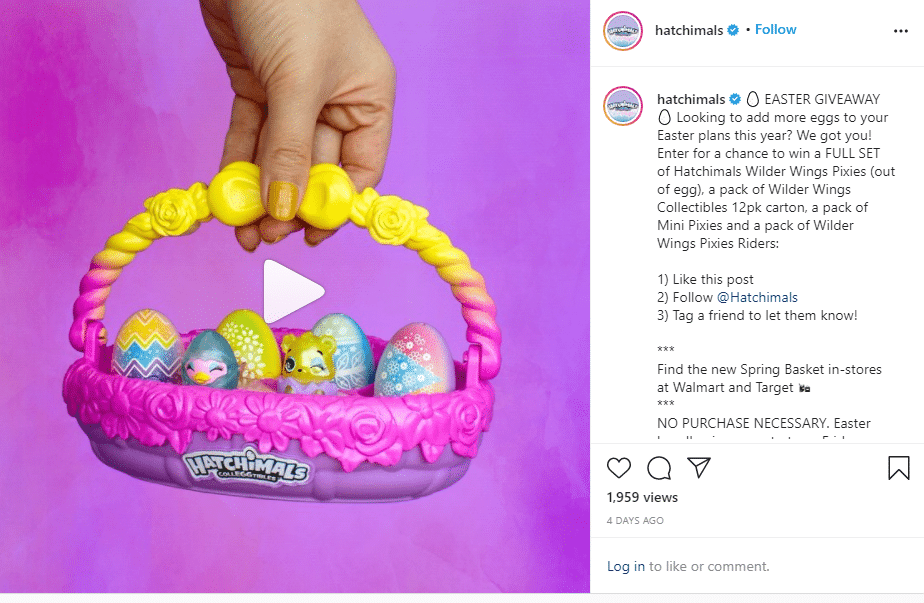 ---
We hope you found these tips helpful! For more helpful retail tips, you can subscribe to our blog.
Happy Easter and happy selling!