The COVID-19 crisis has been traumatic for merchants and shoppers alike. With so many cities, regions and countries under lockdown, normal shopping routines have been disrupted. Many small businesses have adapted to offer alternative ways to shop from phone or chat orders to full online stores with curbside pickup and delivery.
Here are a few steps you can take to make sure local shoppers are aware that you're open and let them know how they can support your business.
1. Update your Existing Customers by Email
If you've been collecting customer emails or regularly send out email newsletters, make sure to update your customers about updated store hours and new ordering methods. Email is often the easiest way in which to quickly communicate with your most loyal customers. Make sure to use an email marketing tool such as MailChimp so that customers can unsubscribe as required by privacy regulations.
2. Update your Google My Business (GMB) profile
One of the easiest and most effective ways you can communicate with your customers is by updating your Google My Business profile and other popular online local directory listings.
At a time like this, your customers are looking for updated information on your business operations. Google and Google Maps are often the first place that shoppers go to look for this information and so, your GMB profile needs to be accurate.
For example, if your hours of operation have changed because of Covid-19, you are temporarily closed, or are offering curbside pickup, you can update your GMB profile to reflect these changes.
Here are a few tips for providing the most accurate information to your customers:
Let people know if you have changed your services (e.g. if you are now selling products online through e-commerce or marketplaces, offering curbside pickup etc.)
If you are able to sell online, make sure you link your GMB profile directly to your online store to avoid shoppers missing your products.
Update your business hours & ensure phone number accuracy
Share any precautions your business is taking (in relation to cleaning and sanitizing products, new procedures, employee policies)
Stay connected to your customers by downloading the Google My Business app and turning on messaging. This way, it will be easier for customers to reach you.
In light of the COVID-19 outbreak, Google My Business has also released new features to help merchants communicate with their shoppers about updates pertaining to their businesses. These updates include:
The ability to mark a business or location as temporarily closed
You can add COVID-19 updates via GMB Posts in order to share timely updates about how your business is responding to the outbreak. Google has even created a tool for you to create free customized marketing materials. If you already have a verified Google My Business account, just visit https://marketingkit.withgoogle.com/ and type in your store name and easily customize the designs.
While it does not pertain to retailers, restaurants and quick service businesses can also specify new attributes such as takeout, dine-in, and delivery.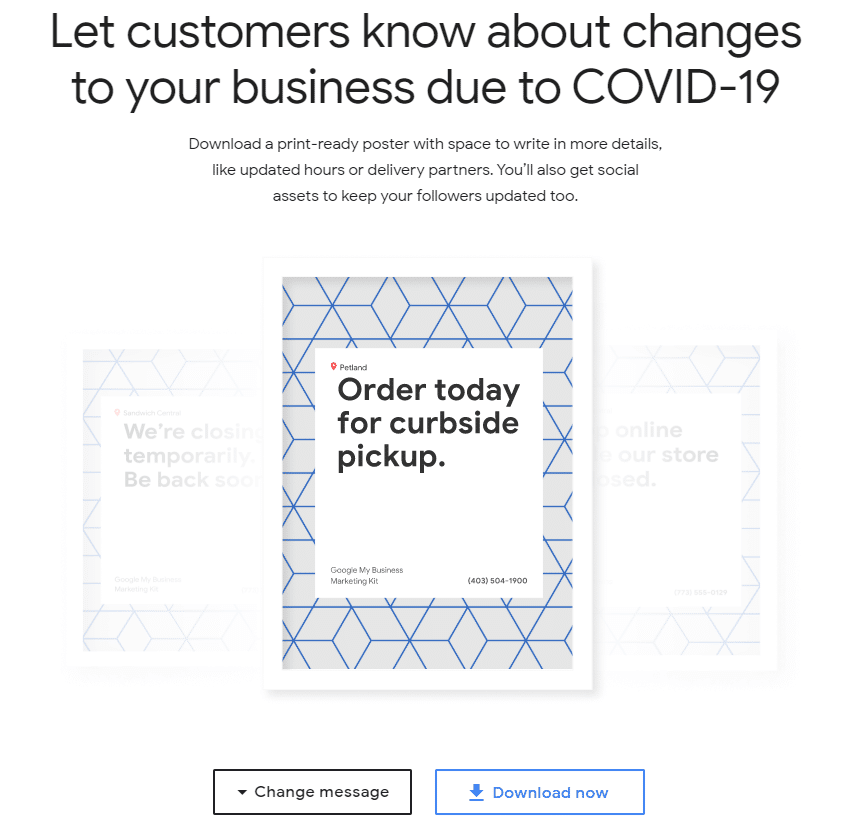 3. Get Added to Local Directory Listings
Other local directory listings also provide important information about your business to potential customers. Simply put, adding your business and maintaining updated listings in as many directories as possible will make it easier for customers to find you online.
So if you haven't already, consider adding your business to the following online directories:
In response to the COVID-19 outbreak, we've developed Support Retail as a free tool to help connect local businesses to shoppers in the area who are looking for products that their business sells.
Getting listed on these directories helps your business increase your rankings in search results and reach more local shoppers. And the best part is that most of them are free to use and they generally only require a few steps to get set up!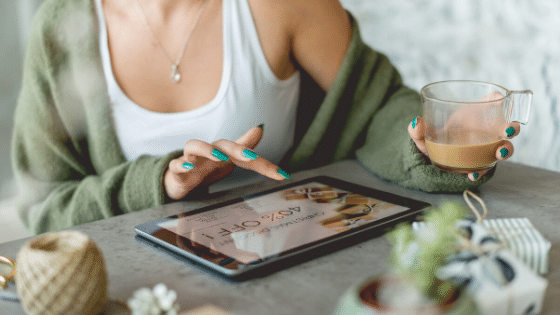 4. Update your Social Media
Social media is one of the most useful channels for communicating and connecting with shoppers. Sending customers constant updates via email or SMS can backfire during these stressful times, whereas social media has proven to be much more accessible. Leveraging social media channels such as Facebook, Twitter and Instagram is key to a good communications strategy.
Here are a few recommendations when it comes to communicating with shoppers via social media:
Update your store on Instagram, Facebook or Twitter to let shoppers know how your services have changed. This includes updating your store hours, contact details, and how your business is responding to the current climate.
Make sure to link the Facebook, Instagram or Twitter pages for your business directly to your online store as you want shoppers to land directly in your webstore and see products when they click through.
As you can see below, Facebook has also added a special feature that allows business owners to specify how their services have changed in response to COVID-19.
Update your store's Facebook Page to let shoppers know how your services have changed. This includes updating your store hours, contact details, and how your business is responding to the current climate. As you can see below, Facebook has added a feature that allows business owners to specify how their services have changed in response to COVID-19.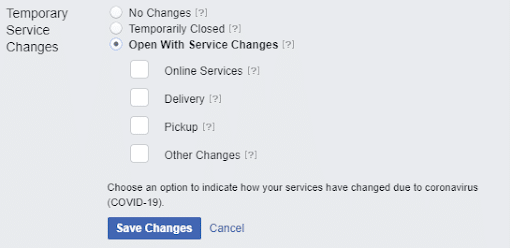 Share credible and relevant information: There are a few things that customers want to know right now. Is your store still open? If not, are you taking orders via e-commerce? How can they contact customer support? What measures are you taking to protect your employees? How are you supporting your local community? What can your local community do to serve you?
Help uplift your community and customers: In addition to keeping your customers updated, be helpful and courteous. Remember, the way you respond to this crisis is a reflection of your brand and company values. Your social posts and promotions need to reflect what is going on in the world right now. Otherwise, you risk coming across as tone-deaf or less credible.
5. Update your Website
Think of your homepage as a digital storefront. Your customers will use your homepage to find any promotions, navigate to product pages, find updates about your business etc.
Remember: If you are using the TAKU eCommerce WordPress plugin, you will need to link your e-commerce store to your existing navigation menu. Otherwise, your customers will not be able to get to your webstore from your website menu.
Consider having a banner or a section on your homepage that shares important information and updates about how you are responding to the current situation. For example, let shoppers know that you are offering curbside pickup or delivery options, updated customer service contact information, how customers can support you by purchasing gift cards, etc.
Note: Make sure to keep the most up-to-date information at the top of your message as you add new features and remove any outdated information. Customers may be shopping online and may not scroll to see messages further down the page.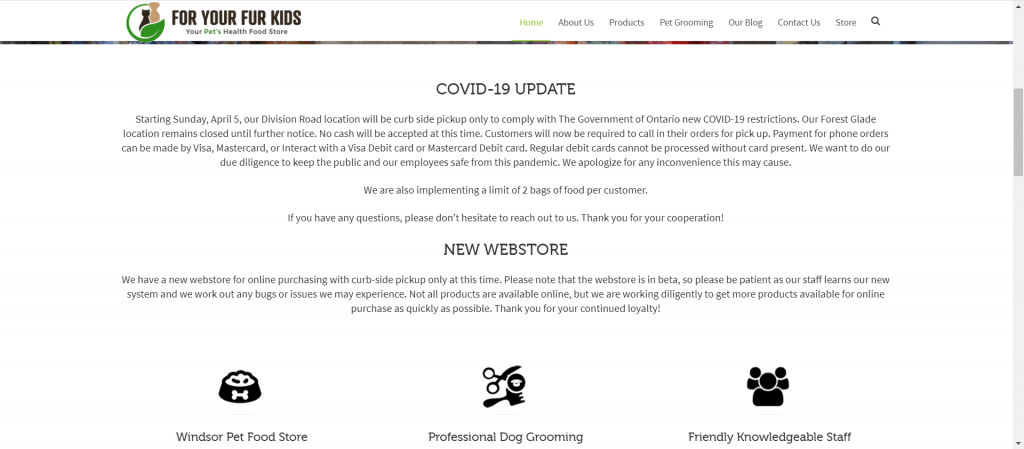 6. Do a quick online search
Once you're published, make sure you do a quick online search of your store to see how you rank in the search results and to make sure all of your links are updated. If you have any old or outdated links that have permanently changed, you can look into doing 301 redirects to get them automatically directed to the new URL addresses. If you're not familiar with 301 redirects, you can ask your website administrator to assist.
---
While your physical doors may be closed, that doesn't mean you can't be open for business. You can still serve your customers by shifting your business online and offering curbside pickup and delivery options. To help you make the transition, TAKU eCommerce is offering a free trial until July 1st, 2020. Click here to learn more.
---
We hope you found this article helpful.
Keep an eye out on our blog for more e-commerce tips.
For more information on TAKU eCommerce, click here