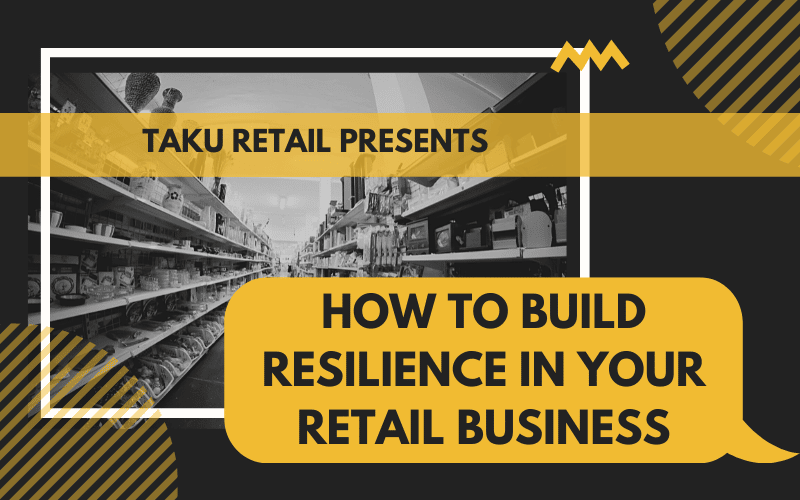 Originally published on August 18th, 2021.
Every so often, retailers are affected by things out of their control such as recession, inflation, seasonal natural disasters and pandemics (just to name a few). One of our customers had a huge setback when a large truck crashed into their storefront because of black ice. Bottom line is, you always have to be ready for surprises. Without the right precautions in place, this could put a huge strain on your businesses and could lead to closure. In an uncertain world, we want to make sure you have the right tools to manage your store so we have put together a few tips below to help you stay resilient through any unforeseeable events.

Inventory
Conduct a physical inventory count to verify inventory amounts. Record any losses of inventory that are damaged, or expired, or spoiled. You'll want to make sure that the inventory you have counted matches stock levels in your POS or inventory management system.
Review your inventory to decide what needs to be discounted and promoted immediately to bring in cash flow and to minimize the losses from your most outdated stock.
Contact your suppliers and vendors to get an update on order lead times and ensure accurate delivery schedules. You don't want to sell what you can't fulfill.
Staff
Use new hiring tactics. Write engaging job descriptions, promise of more hours, and offer a rewards-based incentive program so that your staff can stay invested with the success of your store.
Review loss prevention and security policies with employees. Don't forget to review your POS access rights to make sure the staff permissions are still accurate.
Staffing alternatives with technology. Labor is hard to come by these days, modern omnichannel systems like TAKU Retail (with features like our self-checkout kiosk, and automatic inventory sync) can reduce the amount of hours needed to run your business.
Retail Store Exterior and Interior
Regularly make sure that the storefront is clean by washing windows and doors, and cleaning high-traffic areas thoroughly.
Have the store's new merchandising plan and products tags ready for staff. Ensure that all of your staff are informed of any new changes and are scheduled to help display stock before you open.
Place promotional signage around the store.
Retail Operations Management
Organize back office tasks: Review your fulfillment processes as cashiers need to have easy access to product or curbside orders at the front of the store to minimize their walking around the store.
Review receipt management procedures and train staff to put receipts directly into shopping bags instead of handing them to customers or ask customers if they want an email receipt instead. Remember that privacy regulations require that you get positive customer consent to save their emails for future use so an email marketing tool to capture consent that will allow customers to unsubscribe themselves.
Enable staggered pickup times. Requiring customers to make an appointment to pick up their purchases to avoid huge lineups outside of your store. E-commerce providers such as TAKU eCommerce allow customers to choose a pickup time and date at checkout. Alternatively, you can use apps such as Eventbrite, Calendly or Acuity Scheduling, many of which are free for a single store account.

Security, Technology, and Utilities
Ensure that your utilities are working properly: This includes heating, ventilation, and air-conditioning (HVAC), phone, internet, electricity, and plumbing etc. If any of your utilities were disconnected while you were closed, it's a good idea to call the utility companies to make sure they are working before you re-open.
Check all surveillance and security cameras to make sure they are working properly.
Ensure alarm systems are working and consider updating alarm codes if needed.
Verify that your retail POS system, credit card terminals, and scanners are ready to process sales. Before opening, ring in a test sale to make sure your POS is good to go.
Make sure that your payment terminal (PIN pad) is capable of accepting contactless payments. Know what your contactless limits are and increase them if you are comfortable with the higher risk (contactless "tap" payments are subject to chargebacks).
If things are a bit dated, consider updating your security system. You can look at online reviews comparing different systems to get a better idea.

Retail Marketing
Run promotions to give shoppers incentives to shop and highlighting relevant seasonal products. Remember to add this information to your online store, Google My Business, and all of your other social media channels. Read more about how to use Google My Business to attract local shoppers in your area here.
Let people know that you take orders online – TAKU helps retailers showcase their products 24/7 online and accepts payments easily and quickly (read more here). Fulfill orders in-store and allow customers to schedule a pickup time so that customers can pop in to pick up their items without the stress of long wait times or lineups.
Update Google My Business. Update your Google My Business listing and let customers know you are open for curbside pickup or delivery. Remember to adjust your hours of operation on your listing if you decide to shorten your store hours!
Get added to local directories. Add your business to local directory listings (Bing, Yahoo etc.) to make it easier for shoppers to find you online. Support Retail is one of our favorite directories and was created during the COVID-19 pandemic as a free tool to help connect local businesses to shoppers in the area. Being featured on local directories with links to your website improves SEO which also means that you are able to have your website appear ahead of your competitors on search engines such as Google.
In light of the COVID-19 pandemic, we wanted to add a few relevant tips for retailers that have reopened or planning to reopen soon. We understand that it might be a little overwhelming, but completing this list can help your employees and staff feel safer, and create more trust.
The world can be a shaky place right now, and there may be some rough times ahead. You can rest assured by following the tips outlined in this post. When you build resilience in your retail business, you can handle uncertain times with the utmost confidence and certainty.
---
Want to learn more about how to be seen as the top result on Google (or other search engines)?