Features Overview
All-in-One Retail Sales Software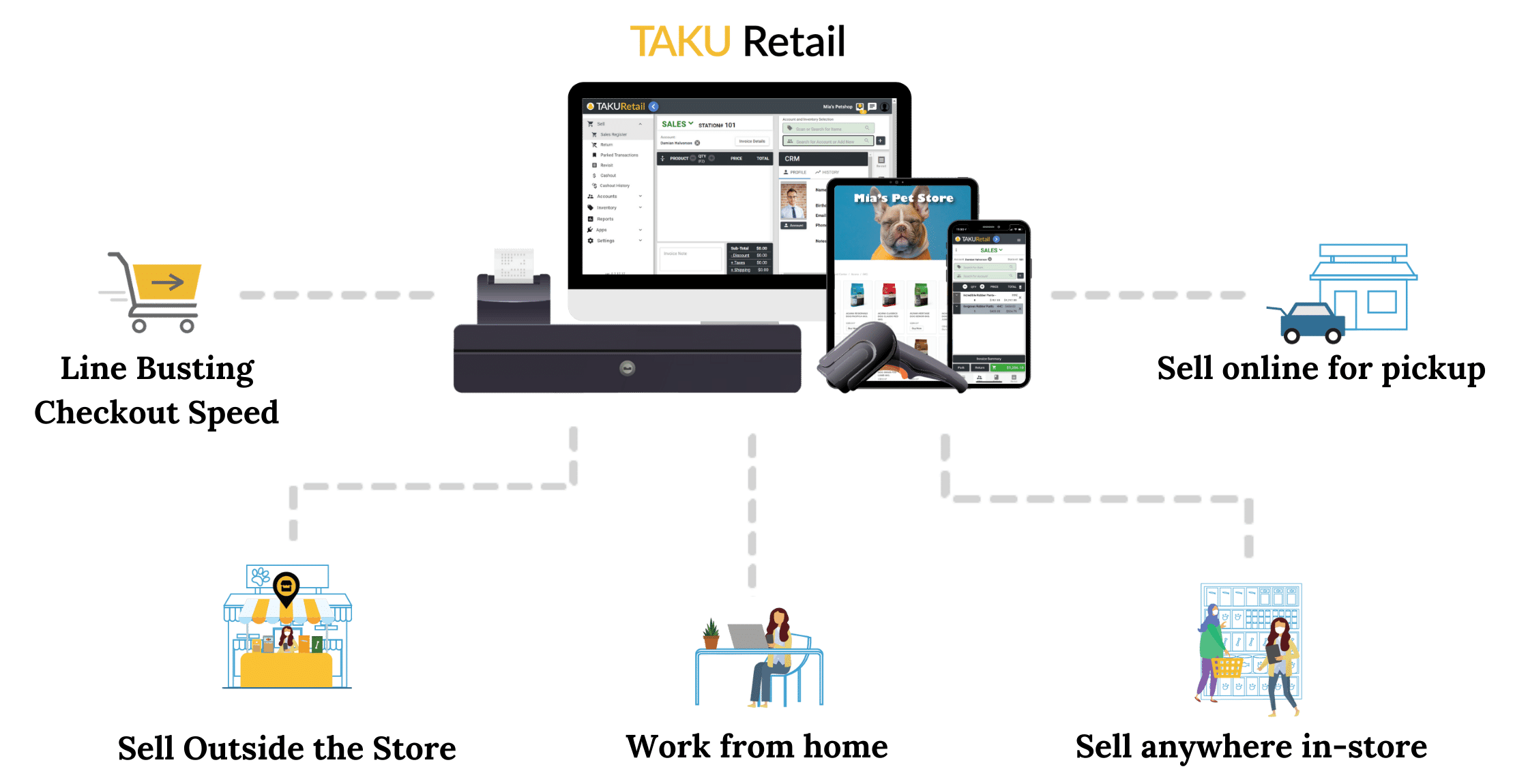 Real-time access, anytime, anywhere
TAKU has more flexible hardware options than any other cloud-based retail POS software. This means smooth synchronization and the same great user experience across any web-enabled PC, Mac, iOS or Android device.
Advanced inventory search
Whether you have 5,000 or 50,000 SKUs, TAKU Retail is designed to allow you to easily scan your barcodes or use our smart search function to look up products by keyword, description, barcode, or tag.
Invoice notes and discounts
Add custom notes to each sale, line item or even tender. Easily apply line discounts or a total invoice discount.
Custom receipts
Email and/or print receipts in tape or letter size after every sale. Fully customizable receipt builders for every store with 30+ different options from grouping products to displaying your social media accounts. 
Painless returns
Advanced return functions that let you control how to accept products back into inventory. Manage returns separately or as exchanges to minimize processing fees. Have better control of your costs by restricting refunds or paybacks by tender type.
Line-busting checkout speed
Every transaction counts. Don't lose sales because your POS can't keep up. Whether you're using TAKU at your checkout tills or on phones with mobile sales staff, get customer payments faster with a salesscreen designed for speed. 
Fast onboarding & employee training
We're proud of our support services. We're even more proud of the fact that you probably won't need them. TAKU is an easy-to-use POS with built-in smart product tours to train staff on all key functions in minutes.
Cash management
TAKU's advanced cashout includes customizable default floats, float breakdowns and access rights to manage staff, reduce errors and control discrepancies.
Split payments
Give your shoppers more flexibility with their purchases with customizable split payments. Designed to minimize the number of clicks, our user-friendly payment screen allows you to quickly accept, edit and add notes to single or split payments, all without leaving the salesscreen.
Built-in flexibility
Don't let your POS dictate the limits of your business. TAKU is designed to help retailers grow. Scale up or down seamlessly and rest assured that your POS will always be able to match your business needs whether you operate in one country or many.
Built-in eCommerce
Whether you want to sell online, offer an online catalogue or have customers pick-up/return in store to minimize your delivery costs, our built-in eCommerce features have you covered. Available add-on to all TAKU plans.
Real-time sync with POS
See what seamless retail commerce is all about. TAKU will automatically track and adjust real-time on-hand stock quantity with every sale or return whether in store, at an event or online. Real-time stock information, wherever the customer is. 
Integrated social media stores
Don't be limited to only traditional e-commerce. If your customers are heavy social media users, use our built-in Facebook or Instagram stores to sell directly to your followers. Easily handle customer inquiries with Facebook Messenger.
Abandoned cart saver
Take your online store to the next level by managing lost customers with our built-in abandoned cart saver. Easily bring customers back with automated emails.
Multiple shipping options
It can be expensive to ship online orders. We make sure you have multiple shipping options to use 3rd-party shippers or to handle your own delivery.
Built-in WordPress plug-in
Already have a WordPress web site? No problem, TAKU eCommerce has a built-in WordPress shopping cart plug-in. Easily add the ability to enable existing POS products for e-commerce. Product details and pricing are shared in store and online – no synchronization required. 
Integrated 3rd party marketplaces
Reach new customers on the world's largest online marketplaces. Immediately start selling on Amazon with our built-in integrations to easily sync and sell your products on these popular platforms.
No additional % transaction fees
Accept credit or debit cards with our cost-effective payment options. Use our own integrated gateway option with no additional fees or choose your own out of our list of integrated payment processors for a small flat monthly fee.
360° real-time customer view
See your customer history in real-time. Get a powerful overview of their total relationship with your business, across all channels online and offline. No more synchronization between multiple stores or platforms.
In-store customer consent form
Properly collect consent for marketing when new customers register in-store. Designed to be used by mobile staff, our pop-up form will automatically show your own store consent policy.
Customer tax categories
Automate taxes, rebates or exemptions with customizable customer tax categories. Collect tax ID numbers where required for tax reporting.
Bulk import function
Easily bring your existing customers over to TAKU with our built-in import function that even helps you clean up your data prior to importation.
Customer worksheet with bulk edit
Use our dynamic worksheet to search for customers with multiple filters or edit customer information in bulk. Whether you're hiding, re-sizing or dragging working columns, you'll love our spreadsheet-like functions!
Customer groups
Customizable grouping that allows you to group customers by any category you wish – VIP, senior, employee, wholesale, etc.
Unlimited contact fields
Add unlimited emails, phone numbers, instant messengers, social media accounts, addresses or even tags to your customer accounts.
Internal Notes
Add notes to customer accounts to communicate important information to staff.
Be found online
Unlike other POS that are yet another cost to the merchant, TAKU Retail is a POS that helps retailers appear higher up in Google search results. Set up and manage your Google My Business profile right from inside TAKU!
Create an online showcase of your products
Use the built-in TAKU-Google My Business integration to automatically display your in-stock products underneath your Google store listing. A free SEO function included with all TAKU Retail plans.
Reach local shoppers, wherever they are
Attract more local shoppers, right when they are searching for what you sell. Run high performing Google Shopping ads that can be activated and managed directly from TAKU for as little as $5/day.
Your free micro-website or landing page
Create a beautiful SEO-optimized web page with custom colours, images and content linked directly to your Instagram feed, Facebook, Google and Messenger. So easy, it can be set-up in 5 minutes and runs on autopilot.
Real-time stock tracking & history
Forget the days of checking multiple systems. Track your real-time on-hand quantity and historical movement across all sales channels or locations – whether online or in store.
Enter your inventory all in one place
We know how time-consuming it is to manage inventory in multiple systems. Manage details like product names, quantities, and prices with ease. With TAKU, you only need to enter your inventory once for all of your sales channels. We even handle add meta titles for SEO.
Receiving and re-orders are a breeze
Easily handle your receiving and minimize out-of-stock scenarios with our built-in inventory receiving function and minimum stock quantity report.
Bulk item import
Bring your existing inventory items over to TAKU with our built-in mass import function that even helps you clean up your inventory data prior to importation.
Inventory worksheet with bulk edit
The first cloud POS with a built-in worksheet that allows you to edit inline, multi-filter by keyword, sort by column, show/hide/drag/re-size columns and even edit rows in bulk. You'll wonder how you ever got by without us 😉
Multi-channel image management
Handle multiple inventory images with our bulk upload tool. Easily pin a default image for eCommerce or the picture gallery for your salesscreen.
Unlimited categories & tags
When you sell in multiple sales channels, you need to be able to group products by multiple categories and tags. That's why we've added the ability to add multiple product categories, tax categories and tags per SKU. Easily group products together for fast look-ups, bulk editing, listing purposes, and detailed reports.
Multi-Location Management
Unlimited stores (sell from anywhere)
We weren't kidding when we said TAKU is designed for multi-location merchants. Know what to expect when you're ready to grow. Add as many stores as you want – there's no additional charge to add or change stores 

. Don't pay more just to grow your business.
Scale faster by cloning settings
No need to set-up every store manually. Clone your zone and store settings easily to minimize the chance of error but don't worry, access rights in TAKU are disabled by default so rest assured that access to sensitive information is given only when intentionally granted.
Unlimited stock allocations
Easily split your stock to as many allocations as you need. Unlimited stock splitting makes it easy for you to keep your stock quantities separate for stores, warehouses, virtual stores, shelves, aisles, store stockrooms, etc. for every single SKU.
Group stores by zones
Create unique, custom groups of stores (zones) based on your selling area (e.g. US vs. Canadian stores). Assign different currency, cash rounding, tender types, shippers and stock allocations per zone. 
Unlimited email support
We have a team of in-house retail experts ready to answer any questions you may have. Our support staff work with TAKU POS every day, and they're ready to work for you.
Built-in onboarding tutorials
Significantly reduce your onboarding time and re-training costs with our easy-to-use interface and built-in guided product tours. New users can follow a checklist of key tutorials to learn how to use TAKU right from inside the platform. Included with all plans.
Unlimited chat support
Chat away with a real, live North American technician any time from 8am to 8pm EST. When you contact us, you'll be chatting with one of our in-house technicians rather than someone in a call centre.
Online self-help resources
If you prefer to follow step-by-step instructions, access our online knowledge base to find detailed articles about how to set-up, train or troubleshoot TAKU.
Sales taxes
Set up sales taxes for any jurisdiction in North America. Tax automation available: effective dates, print acronyms, tax calculation methods, tax calculation basis, tax basis for e-commerce, flat tax, shipping included, refundability, recoverability, compound taxes.
Automated tax exceptions
Automate sales taxes and tax exceptions to easily handle your legal tax obligations without giving floor staff access to your tax settings.
Tax rules
Set up the rules for your sales taxes including: tax rates, effective dates, geographic jurisdiction (by country, region, city, zip/postal code), tax categories (by account, inventory) time limits, calculation type (positive, rebate, exemption), tax rule priority.
Financial reports
Pull tax and tax exception reports by receiver so that you can easily submit your sales tax remittances.
Reports and Insights Tools
Manager dashboard
For those with access rights, TAKU has a built-in dashboard to give managers a one-stop glance of how the store is doing right at sign-in.
Cashout
One of the most common causes of shrinkage or loss in retail stores is through the mishandling of cash. Use our cashout reports to prevent any mishandling of payments and to track any loss or theft.
Sales analysis reports
Break sales down by items, categories, and more. With our powerful "spreadsheet-style" reporting module, users can filter by multiple fields, sort columns, and re-organize columns. Minimize work by exporting only what you need.
Bank reconciliation
Minimize the amount of time required to balance your bank accounts. Our bank reconciliation report makes it easier for you to track the accuracy of your bank deposits.
Unlimited users & roles
Customize roles for your business to identify, track and manage different groups of users. Assign roles to users by store for better control of your multi-store staff.
Separate client databases
We know that trust is key to the reputation of every business. It's one of the reasons why we're the only native cloud POS platform to host our client's databases separately for lower risk of privacy breaches. So you can sleep a little easier at night.
Multi-level access rights
We know the type of security controls required for established businesses. This is why TAKU allows you to manage role access according to user actions and visibility.
Customizable store-level consent policy
Privacy isn't just a superficial feature in TAKU. Wherever possible, we've baked privacy in by design. We're the only cloud POS to offer an in-store customer consent form tied to a customizable store consent policy.