Depending on your region or city, governments everywhere have been revising restrictions to help retailers re-open safely. Regardless of the local by-laws, it is important for retailers to be prepared to have and to manage mask policies for physical stores.
Over the past several weeks, cities and mainstream retailers have started implementing new universal mask policies. In this article, we'll go over how retail owners should consider mask by-laws in-store, how to implement a mask policy even if it is not mandatory in your region, as well as some best practices on how to manage defiant shoppers.
Managing Mask By-Laws In-Store
If your store is located in an area where mask by-laws are in place, you'll want to ensure that you take the necessary steps to implement new procedures pertaining to the by-law:
Print out a copy of the by-law from your municipality's website and consider having a printed copy of the latest by-law available in the store to show to customers as required. Make sure you have read it carefully and are familiar with the requirements.
Develop a store mask policy in accordance with the by-law. Make sure to include necessary exemptions as stated by the government (individuals who are exempt such as those with health conditions or younger children, when masks can be temporarily removed etc.)
Be sure to train employees, particularly those who will be greeting and possibly confronting non-cooperative shoppers.
Display all necessary by-law signs (posters, signage on store-front etc.) outside and inside of every entrance to your store.
When Masks are Not Mandatory
Retailers have an obligation to provide a safe environment for both their staff and shoppers. In the absence of government orders, it is up to retailers to then determine how to provide a safe environment.
While masks are not known to protect the wearer from catching the virus, studies have shown that:
They do provide effective protection in minimizing the spread of the virus if the wearer is unknowingly sick (asymptomatic). Countries that have adopted universal masking policies (e.g. South Korea) have also had the best results in minimizing the spread of the virus.
More importantly, they have a positive psychological impact on shoppers that are scared. While some people do not believe in the effectiveness of masks, there is no doubt that mask policies make worried shoppers more confident to shop in-store.
Similarly, having a mask policy will make it easier for retailers to both hire and retain employees many of whom are worried about being exposed to many shoppers throughout the day.
As the virus continues to spread, many retailers have themselves announced mandates requiring all customers to wear masks in their stores. While some shoppers may find mask policies to be unfavourable, given the legal and ethical obligations of the situation, it would be in every retailer's best interest to make masks mandatory. This will increasingly be easier to do as the largest retailers including Wal-mart, Best Buy, and Costco have all recently implemented universal mask policies.
Let's take a look at some of the steps that retailers can take when implementing mandatory masking policies both in the absence of government orders and when government by-laws are in place.
1. Clearly communicate store mask policy
Given the number of different rules and regulations surrounding COVID-19 safety, it's important to communicate your policy in a clear and respectable way to shoppers. This means having proper signage at all store entrances as well as inside the store and communicating the new policy via social media and digital channels (e.g. email and store website). It is important to announce your new policy in advance to make sure that shoppers are aware of the change and will be expecting to bring and wear a mask when they come to your store.
Signage should state your policy in an easy to understand manner such as "For the safety of our employees and shoppers, all customers entering store premises are required to wear a mask or face cover inside". You may want to consider adding a list of exemptions to your signage as well (for ex: those with health conditions, hearing impairments etc.) Proper signage and marketing will make potential and returning customers more comfortable to shop at your store.
If you live in a region where universal masking policies are in place, you'll want to ensure that all signage and marketing complies with rules of the by-law.
It is worth noting that some retailers have even taken denying access to all maskless shoppers, regardless of the by-law exemptions. In this example of a Fabricland store in Ottawa, the company policy goes beyond the requirements of local regulations and instead asks that anyone unable to wear a face covering to use their curbside pickup option. While stores are privately run businesses on private property and therefore may set their own store policies, it is important to consider both the potential legal and PR implications depending on how universal your mask policy is.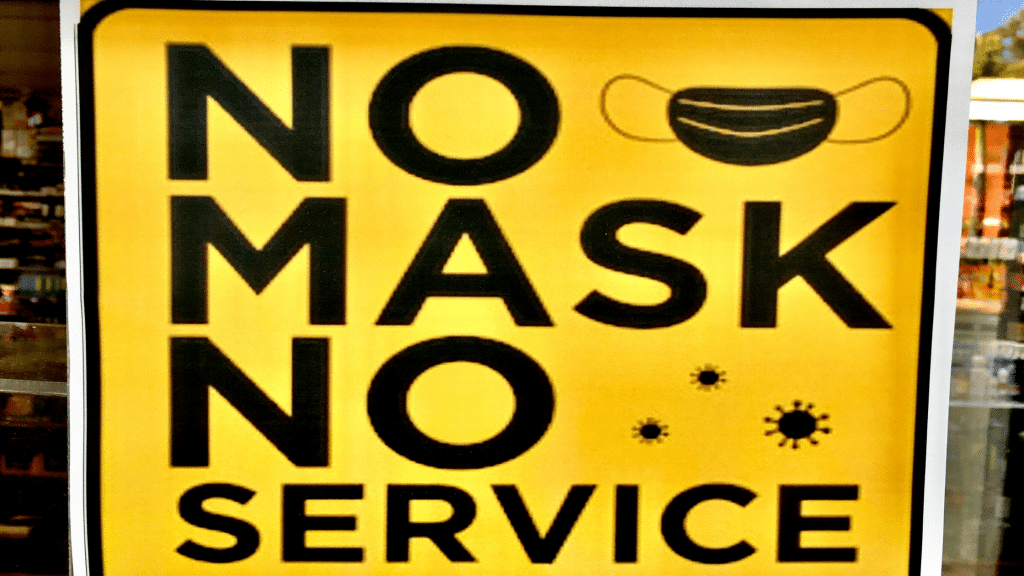 2. Station employees at store entrances
Create the role of "mask ambassador" and assign certain staff members to take on this role. Each "mask ambassador" should be stationed near an entrance of the store to remind customers of the new masking policies.
You may want to require these employees to wear specific clothing (e.g. a black t-shirt) to make it easier for shoppers to spot them. It's important that these employees wear highly visible masks themselves and also receive special training to help make the process smoother for customers. Store owners may also want to consider hiring security staff to enforce mask usage.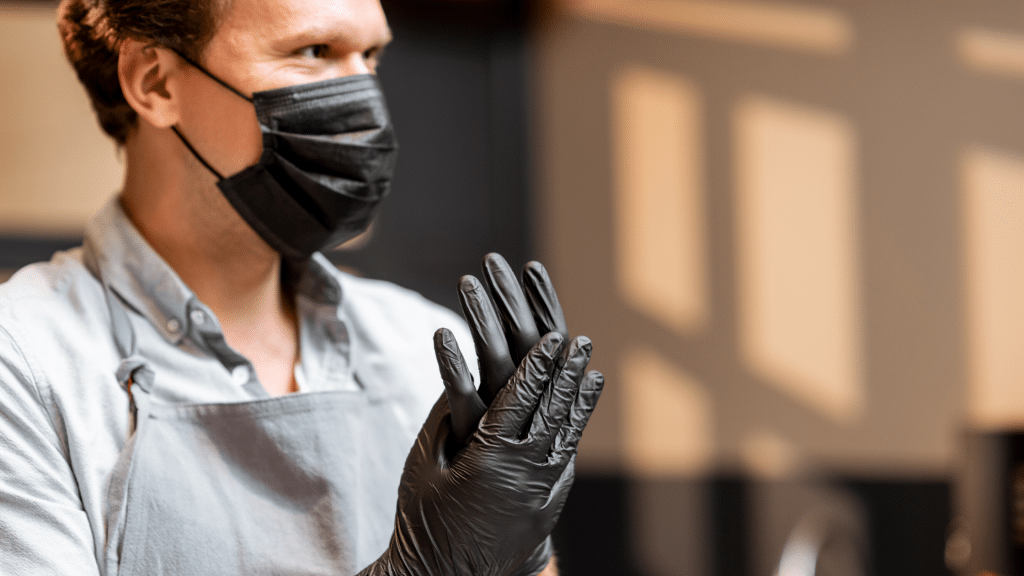 3. Train store employees
Unfortunately there have been cases of angry shoppers using physical threats or even spitting on retail employees because of mask policies. This is why it is so important for staff to be trained on how to deal with different customer interactions including:
Those arriving without a mask
Exemptions pertaining to mask policies or by-laws (people with disabilities, hearing impairments, younger children etc.)
Customers wanting more information about the store policy or by-law
Aggressive, angry, or irritable customers
Fines related to by-laws
Shoppers asking for hand sanitizer or masks
In the past few weeks, social media has been full of videos capturing clashes between store employees and customers who refuse to wear masks. However, it's not a retail employee's job to manage any escalation with customers by themselves. Businesses have a legal and ethical responsibility to provide a safe working and shopping environment. If customers are abusive in their speech or actions, retailers have a right to refuse them. Click here for more examples of how to deal with customers who refuse to wear masks.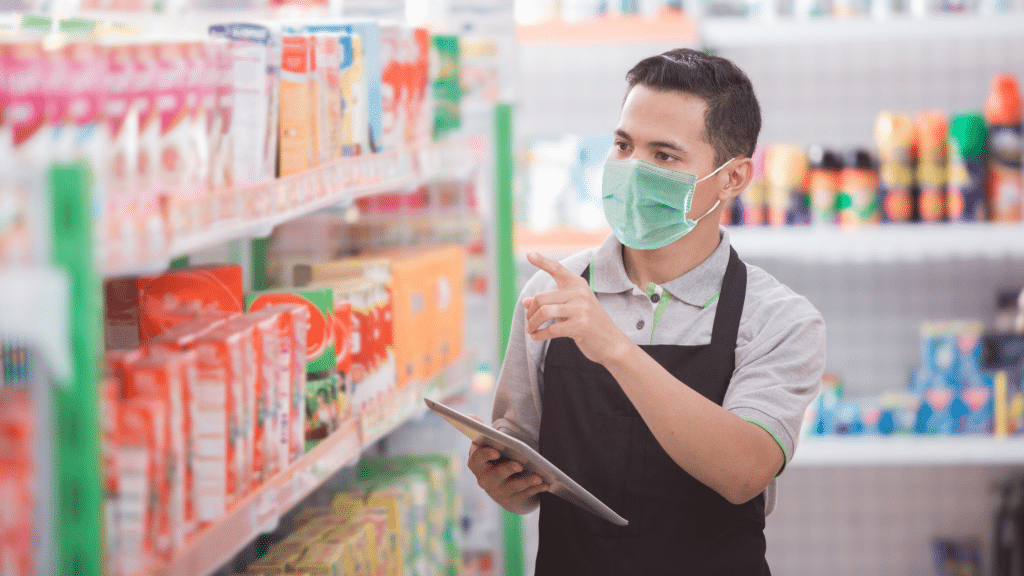 4. Consider giving masks away for free
If it is possible, offer to give or sell an affordable mask to unprepared shoppers to avoid turning away potential customers. Doing so is a great way to make it easy for customers to comply with store policy and/or government by-laws. It also helps showcase your support for your customers, employees, and community.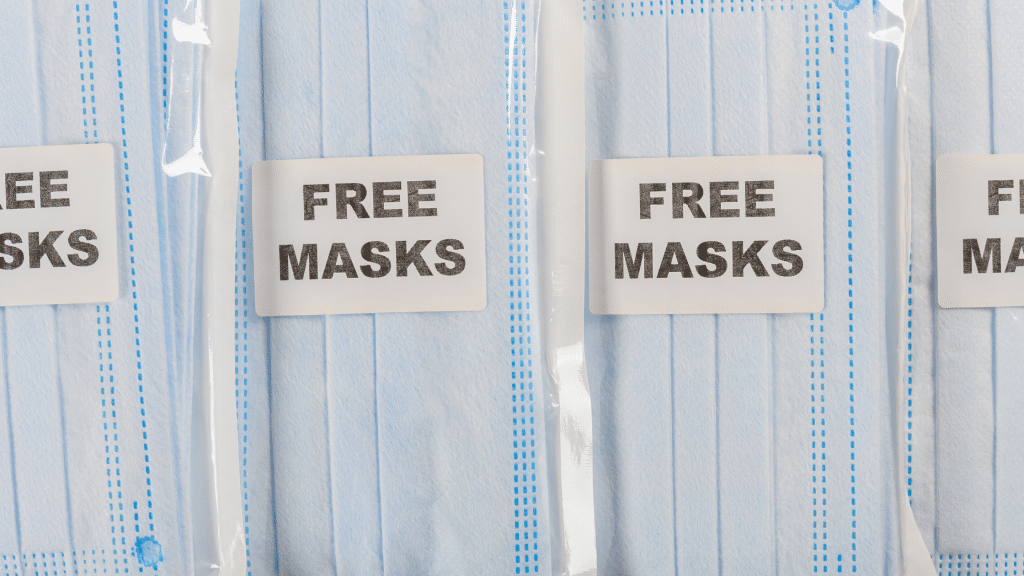 5. Provide alternative ways to shop
If customers have concerns about wearing a mask while shopping, providing them with alternative ways to shop online for delivery or contactless curbside pickup is a great way to continue to provide safety and convenience. Modern retail software platforms such as TAKU retail POS help retailers meet the new expectations of shoppers by allowing them to move their physical store online and sell from anywhere in the store, all in one flexible solution.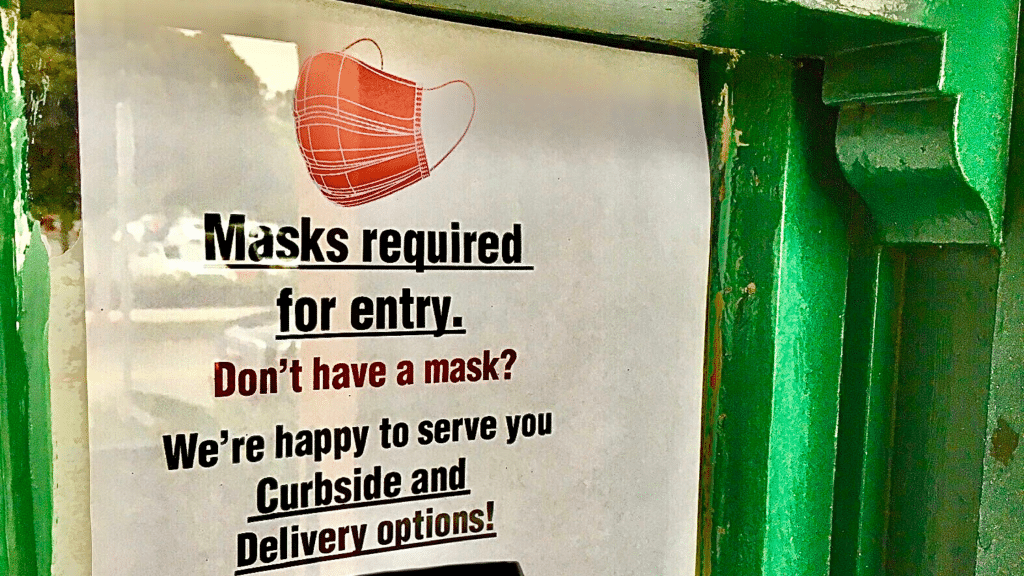 ---
We hope you found this article helpful.
For more post-COVID-19 retail tips, sign up for our blog updates.