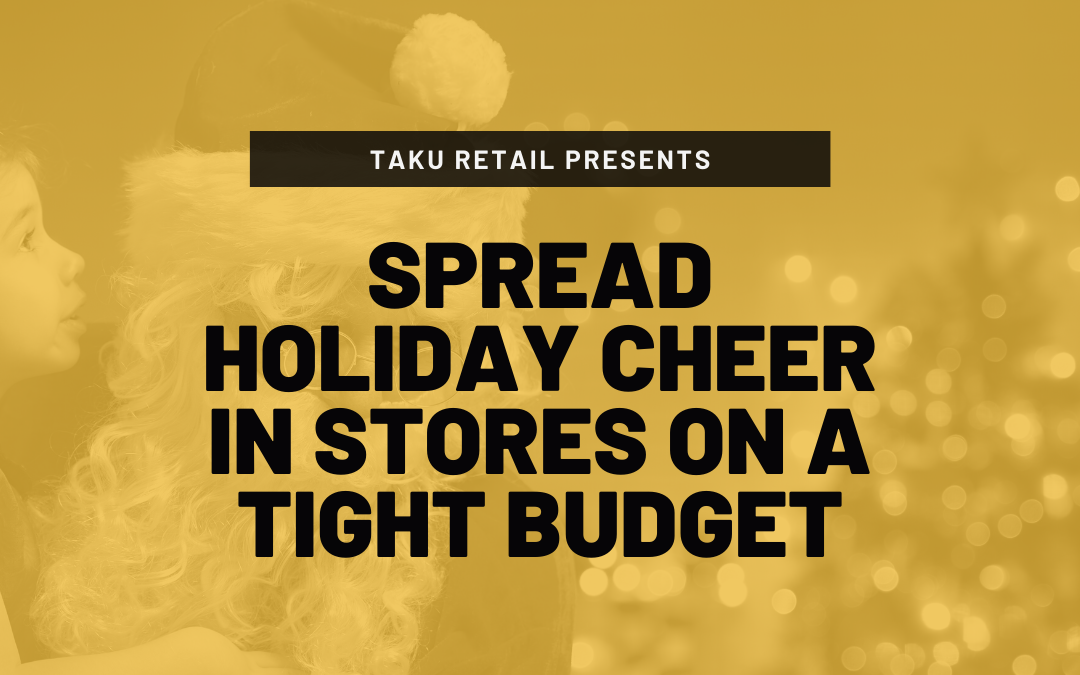 As holiday season approaches, you should start to consider what to stock your shelves with and how to merchandise it. Now that most cities and regions have fully re-opened, you should expect more foot traffic in your store and more shoppers ready to spend money during the biggest shopping season of the year.
In order to capture shoppers' attention, you will need to stand out. With supply chain issues affecting big box stores that import more from abroad this year, local businesses have the room to thrive and stay competitive during this busy season. We will introduce you to some of our selling tactics for this season to make sure that there is a steady flow of people coming in and out of your store.
Put new seasonal items at the front of the store to encourage customers to make impulse purchases
Merchandising is especially important during the holidays. The right strategies can make a world of a difference when trying to sell seasonal products such as greeting cards, decorations and gifts.
Make sure that you prominently showcase new or seasonal products by highlighting them in signs around the store and featuring them in any window displays. Make customers feel welcome and at-home when they browse in your store. You can also create a display at the checkout area that features seasonal low-ticket items that people would buy impulsively such as winter lip balm, hand cream, and stocking stuffers.
Put any discounted items (e.g. last season holiday goods) at the back to drive customers further into your store
Placing sale items at the back of the store means that you are able to capture shoppers looking for a bargain by making them walk through the entire store and see your entire catalog of items on display. Studies have shown that this encourages shoppers to buy more on impulse.
A lot of pharmacies or supermarkets use this strategy by placing bulky "loss-leaders" such as toilet paper (products sold at cost or even under cost to attract shoppers into the store) at the back of stores to encourage shoppers to use a shopping cart since this will make it easier for shoppers to browse for a longer period of time and pick up higher-margin products.
Package products that aren't selling as well together
Make holiday gift packs to move slow moving products. Make sure to highlight the value of the gift pack (e.g. how much is saved versus buying the items individually)!
Grouping similar items together can make them seem more appealing to shoppers. In some cases, it can even increase the selling price of certain products! Attractive packaging can increase the perceived value of certain products. Festive packaging also adds to the overall look of the store and makes gifting easier for shoppers who do not want to wrap their gifts. Since convenience is important to many shoppers, this can directly impact holiday sales.
Deck out your store and online channels with seasonal and/or festive decorations
Put up inclusive holiday decorations to make sure that you do not alienate any customers while trying to create a festive spirit. A popular theme is decorating the store based on the seasons (example: Winter-themed décor and trinkets for December). Pinterest is a great starting point to get inexpensive DIY ideas if you're on a tight budget.
Offer products that aren't selling well as a gift with purchase
This is another way to move products that aren't selling as well as expected. Make sure to have a minimum purchase amount to drive larger orders. This is also an easy one to offer in-store and online. Generally speaking, it's good to have free gift offers with all channels but make sure your higher value gifts are reserved for in-store sales since shoppers buy when they can see everything you offer in person.
Use QR codes on your storefront window to keep selling even when your store is closed
Instead of turning off the lights and calling it a day, use your physical storefront to showcase holiday sweepstakes or promotions. One way to do this is by using QR codes in your storefront displays to make it easy for customers passing by to shop for items impulsively and learn more directly in your online store.
Once customers are in your online store and have added items to their cart, even if they don't buy right away, you are able to send them retargeting emails (emails that remind them that they still have items in their cart ready for online checkout) and let them know about future promotions.
---
Want to know how to improve you checkout process?