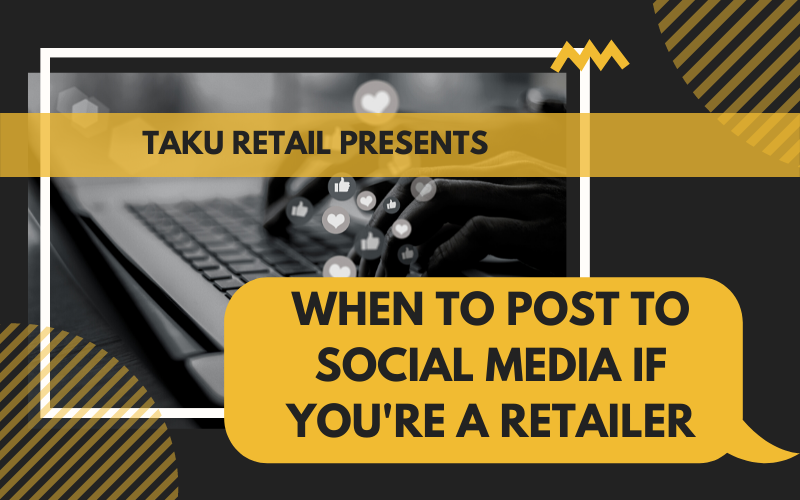 Marketing is built on human relationships. Social media marketing can help improve and grow these relationships. Businesses have been using social media marketing to grow these relationships for several years. This became even more important during the pandemic. Without access to in-person events and limited access to in-person shopping, it became more important than ever to connect with customers through social media marketing. This blog will help you decide why and when to post on social media as a retailer to get more clicks and make more sales.
1. What is social media marketing?
Social media marketing uses social media platforms to connect with your customers. It can build your brand, drive website traffic, and increase your sales. There are many different channels in social media and each has its own part to play in a marketing strategy.
2. What are the main social media channels?
Facebook has the biggest reach of all social media channels. In 2021, it registered 1.8 billion daily users.
Ninety percent of Instagram users follow at least one business.
Seventy-nine percent of people who are on Twitter follow brands.
LinkedIn is the top-rated organic social media platform for B2B users, responsible for 80% of the B2B leads for social media.
TikTok's growth over the last year has been huge. In January 2021, there were 689 million users. In September 2021, it surpassed the 1 billion user mark. That translates to a 45% increase in less than a year. It is now the 7th most popular social network in the world.
3. Why is social media marketing important for retail businesses?
As more and more people connect with others and shop on social media, social media marketing is more important than ever for retail businesses. A HubSpot Marketing Trends survey showed that "social media is the most effective channel marketers leverage, as well as the channel they use most." Social commerce is selling products directly from your social media platform and social media marketing helps to drive more sales. According to an Accenture report, social commerce will reach $1.2 trillion by 2025, up from $492 billion in 2021.
This is good news for small businesses. As the report also indicates, instead of favoring big retailers, there will be a power shift towards small businesses in the next few years. That means there will be millions of individuals and small businesses selling to one another in a large social commerce network. Big brands will continue to face increasing competition from these smaller businesses. Since 62% of consumers say that they trust small and local businesses more than major retailers, now is a great opportunity to use social media marketing to expand your customer base and increase sales.
3. Why social media marketing vs. traditional marketing?
When discussing this topic, many people fall into the trap of thinking that you can only do one of these. Social media marketing provides many benefits over traditional – it is still important to use both!
Social media marketing is one of the most powerful avenues for marketing in the information era. You and most of the people around you are most likely already using social media. In fact, 57.6% of the world's population uses social media. If you have a target audience, chances are they are already using social media. So what are the benefits of social media?
Measuring and analytics
Tracking the performance of marketing campaigns has never been easier. With social media marketing, you can view how well your strategies are performing. Metrics like the following give you a good idea on the efficacy of your campaign:
Reach (the number of people who have seen your content)
The demographics and geographical location of people reached
Conversion rates (how many people are actually doing something from your ad, like claiming a promotional code from your post) and exit rate (number of people leaving after seeing your content)
Bounce rate (% of people who left after visiting one page of your website)
Number of likes/favorites/shares on your post
These are jus a few metrics you could look at. The rise of digital marketing has made marketing a much more understandable process.
Targeting
Each social media offers various methods for targeting audiences. Targeting features include location, age, interests/likes, age and more. This lets you find your specific audience and market directly to them. Targeting on traditional marketing (like newspaper ads) was always very general.
Cost effective
You can get more bang for your buck with social media marketing. Traditional marketing methods can be expensive. Social media can help you reach a bigger audience at a cheaper price!
Trusty marketing
Traditional methods like flyers have this bogus feeling to them. When consumers look at them they feel like they are being sold something. With social media you can make content which feels organic. This keeps your audience have more trust in your brand.
Building bonds
Old school advertisements were a one way conversation. It would be the brand communicating to a consumer, and not the other way around. With social media you can have many ways of communication. Brands can connect with customers, customers can engage back with them. On top of that, customer can even interact with other customers!
These are just some of the benefits social media provides over traditional marketing.
4. How do I create a social media strategy?
It's important to remember that content quality is more important than content quantity. In other words, what you post is more important than how much you post. Posting consistency is also more important than posting frequency.
If you haven't built an audience yet, don't worry. There are still some universal things to consider with your social media strategy. In general, there are 4 things involved when posting on social channels:
a) Having a clear objective in mind
When creating a social media strategy, it's important to know what you're trying to achieve. If you don't have a goal, you won't know if your marketing strategy is working. This means knowing if your intention is to drive more foot traffic to your store, increase online sales, improve customer service, promote new products to existing customers, etc.
b) Determine the best channel(s) for your business
There are a lot of social media channels and new ones are starting all the time. Most businesses don't have a dedicated team or the resources to promote their business on every channel. The best way to get better engagement on social media is to start by focusing on the social media channels your customers are most likely to use or be active on.
c) Determine the best time to post on social media
You will need to manage your audience's expectations. If you decide that your customers respond best to Facebook posts on Tuesdays and Thursdays, for example, you should post on those days. Your customers will know that they can visit your Facebook page on Tuesdays and Thursdays and find new content.
When developing your social media strategy, look at your past engagement to see which customers responded most at certain times. Use this information to test posting dates and times and then analyze the results. You will need to figure out the best times to post on social media so you can engage the right customers at the right time.
d) Consider using social media scheduling tools
Instead of rushing to post on each social media channel individually, it's a lot easier to schedule social media posts in advance. This will give you time to focus on other aspects of your business. To make it easier, many of the social media scheduling tools will let you create templates of the types of posts that get the most engagement and sales conversions.
5. When are the best times for retailers to post to social media?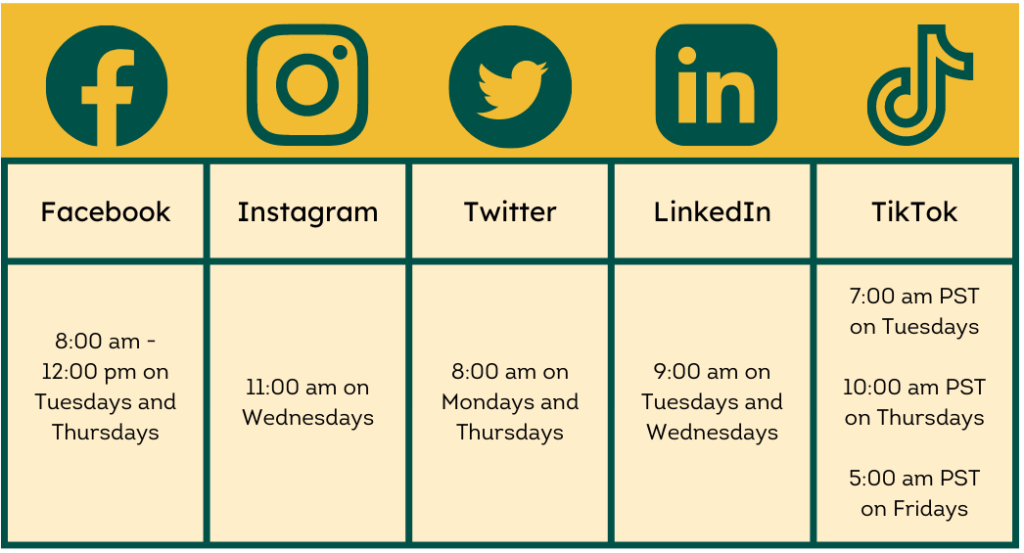 Besides your own understanding of your customers, you can also refer to the best practices of other retailers. In general, the best times for retailers to post on social media are 10:00 am on Tuesdays, Wednesdays, and Thursdays to get the most likes or engagement.
Facebook: The best time to post on Facebook is 8:00 AM to 12:00 PM on Tuesdays and Thursdays.
Instagram: The best time to post on Instagram is 11:00 am on Wednesdays
Twitter: The best time to post on Twitter is 8:00 AM on Mondays and Thursdays.
LinkedIn: The best time to post on LinkedIn is 9:00 AM on Tuesdays and Wednesdays.
TikTok: The best times to post on TikTok are 7:00 am PST on Tuesdays, 10:00 am PST on Thursdays, and 5:00 am PST on Fridays.
---
More and more shoppers are using live chat for product information and pricing. When you use our built-in Facebook Messenger feature you can respond to shoppers, right when they're checking out your online store.
With TAKU, you can reach local shoppers, wherever they are. Attract more local shoppers, right when they are searching for what you sell. Run high-performing Google Shopping ads that can be activated and managed directly from TAKU for as little as $5/day.