Earlier this year, the news that several well-known retail stores are closing locations broke. Known as the "death of high-street" or "the retail apocalypse", the rumored decline in Main Street retail
has caused many small store owners to panic.
Main Street store closures have been credited to a number of factors – the rise of online shopping, costly leases, and increased competition.
So the question is – is physical retail actually dying? And what can main street stores do to thrive despite these factors?
Is Physical Retail Dying?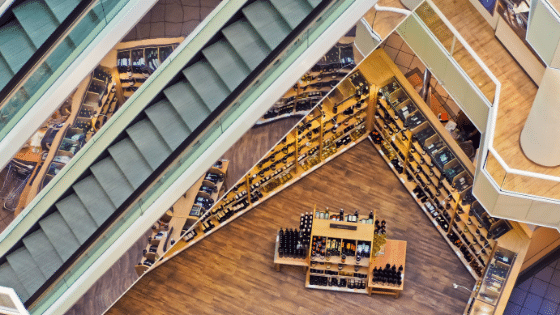 Although many are claiming that physical retail is dead, 90% of all retail sales are still occuring in physical stores. In fact, physical retail continues to grow.
Online Brands are Opening Physical Locations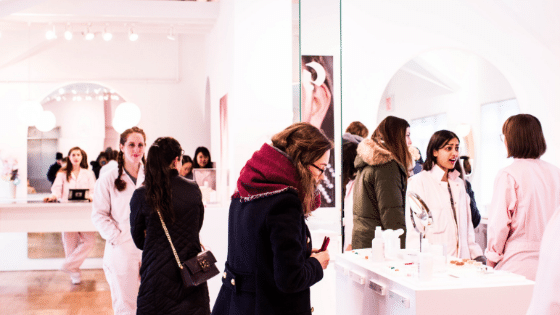 More and more pure online brands are opening brick and mortar locations – proving that physical stores are an important part of a successful retail strategy.
According to the Retail Dive, 850 digitally native brands are set to open physical locations within the next 4 years.
Purely online brands that have opened physical locations in recent years include Glossier, Casper, Warby Parker – and even Amazon.
4 Tips to Attract More Customers
So if there's one thing that store closures can teach retailers – it's what not to do. Amidst a changing retail environment, selling more simply comes down to:
attracting more customers in store
increasing the amount customers spend
Here are 4 strategies that can help your Main Street store sell more:
1) Build an Online Presence
A failure to digitize is the reason many small retail stores are declining. But building an online presence is necessary to keep up with shopper spending habits.
In fact, in-store shopping behaviour is being influenced by online research – a modern trend called Research Online, Purchase Offline (ROPO).
Not yet convinced that you need an online presence?
Here are some factors you may want to consider. According to Google:
The majority of shoppers research online before purchasing in-store.
Shoppers who research online before purchasing offline are more valuable – they spend 33% more.
These customers shop a lot more – viewing more brands and visiting more stores.
They value seeing the physical product and that's why they don't buy online.
There are a number of online strategies that can attract customers in-store including:
Social media marketing
Optimizing Your Google My Business Listing
Running Google Shopping Ads
E-mail marketing
Content marketing
Search engine optimization
Learn more about how you can build your retail store's online presence here.
2) Implement an Omni-channel Retail Strategy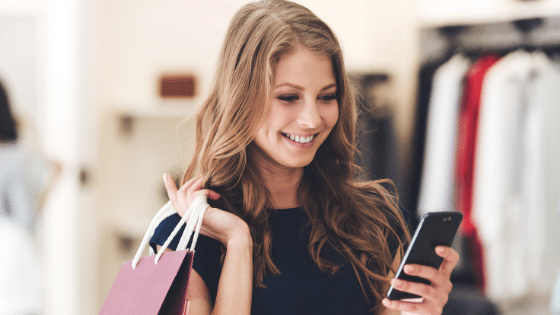 An omni-channel retail strategy recognizes that customers like to shop across multiple channels. And that they often start their buyer's journey on one channel but end up completing it on another.
Omni-channel is more than just selling online and in-store (a multi-channel strategy) – it's about providing the customer with an integrated shopping experience. So whether the customer is conducting a search online, shopping via mobile, or browsing in-store, their experience will be seamless.
Sephora is an example of a retailer that is executing a brilliant omni-channel strategy.
Sephora's Omni-channel Experience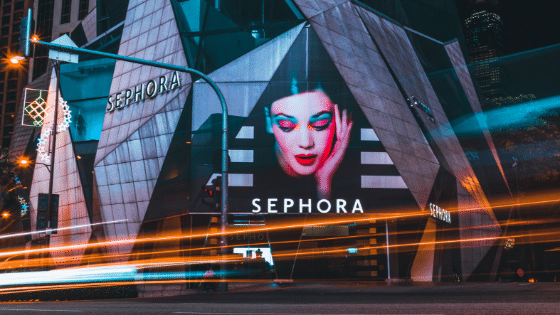 Known as the beauty giant in retail, Sephora has embraced an omni-channel strategy that bridges it's online and offline channels. When Sephora customers are shopping in-store, they can use their mobile app to look up previous purchases, read ratings and reviews, and see their Beauty Insider discounts (or loyalty points).
The beauty giant relies heavily on technology to enhance customer experience. For example, Sephora employees and make-up artists use Ipads and mobile to showcase hundreds of different products styles and shades. Employees can also use these devices to order out of stock items for shoppers and ship them directly to their house.
And the shopping experience doesn't end when customers leave the store. With Sephora's mobile app, shoppers have access to all things beauty – from the newest product releases, beauty tutorials, and the latest trends.
3) Improve In-store Experience
Attracting more customers to your store starts with a compelling in-store experience. Here are some ways you can create an appealing shopping experience for your customers:
Faster checkout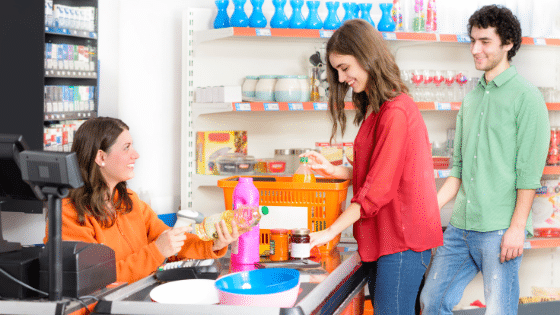 Shoppers value their time – that's why long checkout lines are a huge turn-off. A slower check-out speed will often lead to abandonment. In fact, long lines and poor checkout experiences are major contributors to low shopper satisfaction.
To solve this problem, think about adopting a POS software that is designed for checkout speed.
Here are some factors to look for when choosing a POS:
Navigation designed for checkout speed and minimum clicks – you shouldn't have to leave your salesscreen to complete a transaction
Barcode scanning speed with quick recall of your last search
Software designed to handle high volume inventory or a large number of transactions
For more information about adopting a line-busting POS, click here.
Train your employees well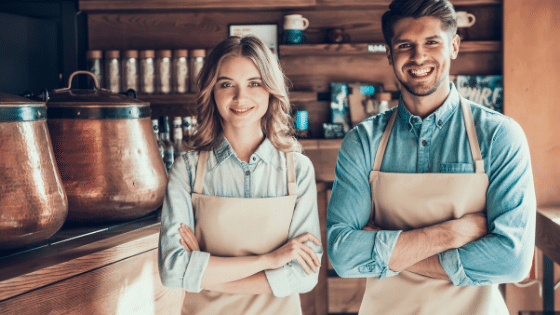 Your employees are one of the greatest contributors to the in-store experience. And that's why they are also the key to increasing your retail sales.
So it's important to invest in quality employee hiring and development. Here are some tips to help your employees grow (and not slow) your retail sales:
1) Train them to have strong product knowledge: Other than online research and reviews, your employees are the second most important source of information for shoppers. So train your salespeople to provide shoppers with the information they are looking for.
Strong product knowledge includes : the features and benefits of your products, who the product is for, competing products in the market, product demonstrations, and situations the product is good for.
2) Teach them to connect with shoppers: interactions between customers and salespeople help make the shopping experience a memorable one. So teach your employees to engage with shoppers – it is a good idea to outline a plan (from when the customer enters the store to closing the sale).
Some tips include: greeting shoppers enthusiastically, finding something in common with the customer, and asking questions to figure out their wants and needs.
3) Help them speed it up: As mentioned above, quick service is a priority for most shoppers – and it needs to be a priority for your employees as well.
It's important to have enough sales staff on the floor to guarantee speed. So make sure that you are staffing based on store traffic rather than arbitrary scheduling.
As I touched on before, picking a line busting POS software that is easy to use is also important in helping employees speed up store operations.
4) Promote Impulse Shopping with Effective Merchandising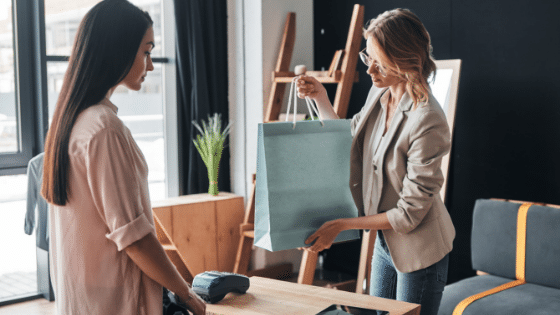 Operating a physical retail store comes with a major advantage – impulse buys. Despite the rise of online shopping, the majority of impulse shopping takes place in physical retail stores.
In fact, 79% of impulse buys occur in-store while only 6% occur on mobile.
Here are some ways you can merchandise your store to promote impulse buys:
Place relevant and lower-priced items near checkout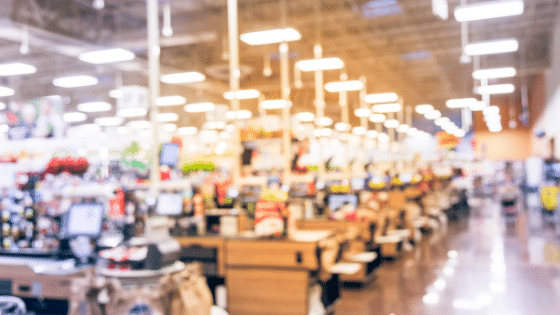 This is a popular strategy used by many successful retailers – and for good reason. It is an extremely effective tactic as shoppers are already at the point of sale. And by placing lower priced, relevant items near checkout, shoppers see an easy and convenient way to add to their orders. So by implementing this strategy, you are increasing their likelihood to make a purchase.
Place impulse buys near high demand items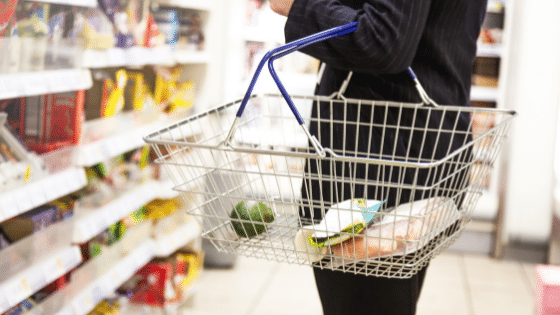 Your checkout area isn't the only place where you can promote impulse buys. Placing lower-priced items near your store's top sellers is another effective strategy. As shoppers frequently head to these areas in your store, any merchandise displayed close by will naturally increase visibility.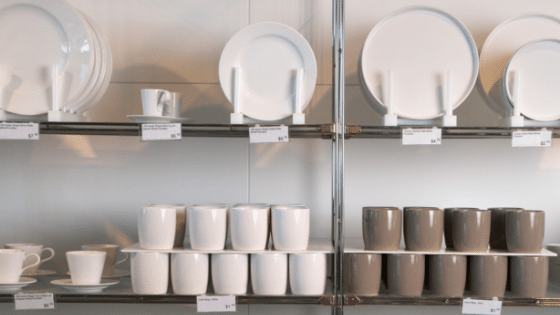 This means placing similar items in the same area so shoppers can find everything they need at once. This strategy encourages shoppers to purchase complementary products. For example, placing staples close to staplers will remind shoppers to buy an item they may have otherwise forgotten.
Learn more about effective merchandising practices here.
---
We hope you found this article helpful!
Do you want to learn more strategies to sell more? Good news- we are hosting a breakfast seminar exclusively for GTA store owners! We will be discussing how you can attract more local shoppers with POS technology among other important topics. To learn more about the event and to register, click here.
#mainstreetretail #attractcustomers #retailtips #retailmarketing #retailpos #cloudpos