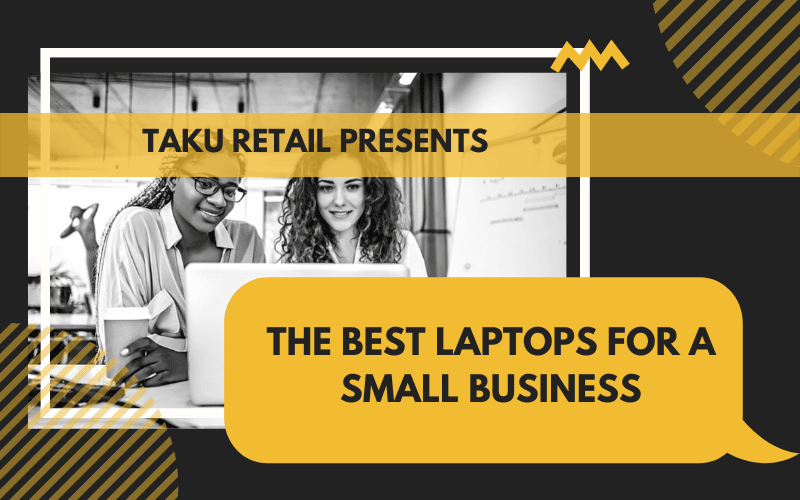 Like any other job, having the right tools to run your retail business is important for success. It is essential to have a computer to run a business in the modern age. An affordable laptop that meets your needs as a retailer can increase your productivity and make operations run smoothly. Through intense research, the TAKU team has created a list of the best laptops for small businesses. These laptops will be able to run software like QuickBooks, Microsoft Office, and TAKU Retail with ease. Since this is a list of laptops for small business owners we've kept the list to laptops under $1000 USD.
Before we dive into the list of laptops we should go over some of the basics of computer specs (specifications). Computer specs refer to the pieces that make up the computer. The specs are also a good indication of computer's potential performance. Here are some of the most important specs to be looking out for when shopping for a computer/laptop.
Random access memory (RAM)

RAM is one of the most basic specs one should look at when purchasing a computer. To simplify things, think of RAM as the shelf size in a store. The bigger your merchandising shelf is, the more products you can display nicely. The more RAM a computer has, the more programs and windows it can have open at once while still running things smoothly. RAM is measured in GB (gigabytes). 8 GB of RAM is the standard these days, and will be enough to keep up with the standard day-to-day operations for a business. It is important to keep in mind that Google Chrome is well known for using a lot of RAM. So if you are someone who likes to have a bunch of tabs open, you may want to spring for 12-16 GB of RAM. For a deeper explanation of RAM check out this article.
Central processing unit (CPU)
The CPU (also known as a processor) is the brain of your computer. It is arguably the most important piece of the computer because it does most of the work. A strong CPU will usually mean a fast computer. Now CPUs are not measured in a metric (like how RAM is measured with gigabytes). CPUs require a bit of technical knowledge and research to understand which ones are the best. To keep things simple, we recommend that for business purposes you aim for an i5 or i7 processor. The i5 and i7 models are only with the Intel brand, but most of the laptops on our list contain Intel processors.
Storage capacity
The storage capacity of your computer is the amount of data it can contain. This is also measured in gigabytes. There are two options on computers these days when it comes to storage. There are solid state drives (SSD) and hard disk drives (HDD). HDDs are generally a lot larger (in storage & physical size) and cheaper but are not as fast to load your data. SSDs are much faster but cost more, this is why they'll tend to have smaller storage space. SSDs are pretty much the standard now as they allow your computer to load Windows (or Mac OS) a lot faster (this means the computer starts up quicker). All the laptops in our list contain SSDs. For a full breakdown between the two check out PC Magazine's article.
Now there are a bunch of other specs one can look at when shopping for a laptop, but the three mentioned above are a good starting place. So let's dive into the best laptops for small businesses.
8 of the best laptops for small businesses
HP 15-dy2024nr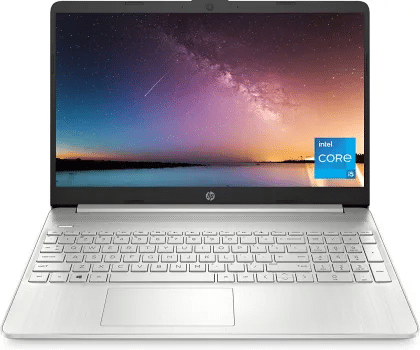 The HP 15-dy2924nr is a great laptop at its price tag (priced at $659.99). The computer has the standard 8 GB of RAM, a 256 GB SSD and an Intel i5-1135G7 processor. The processor is quite a powerful chip and will ensure your programs run smooth. The laptop also has quick charging, letting it repower from 0% to 50% in just 45 minutes (not to mention its 8.15 hour battery life)! This ensures you waste no time and can get to serving your customers quicker. Purchase it from Amazon today!
Inspiron 15 3000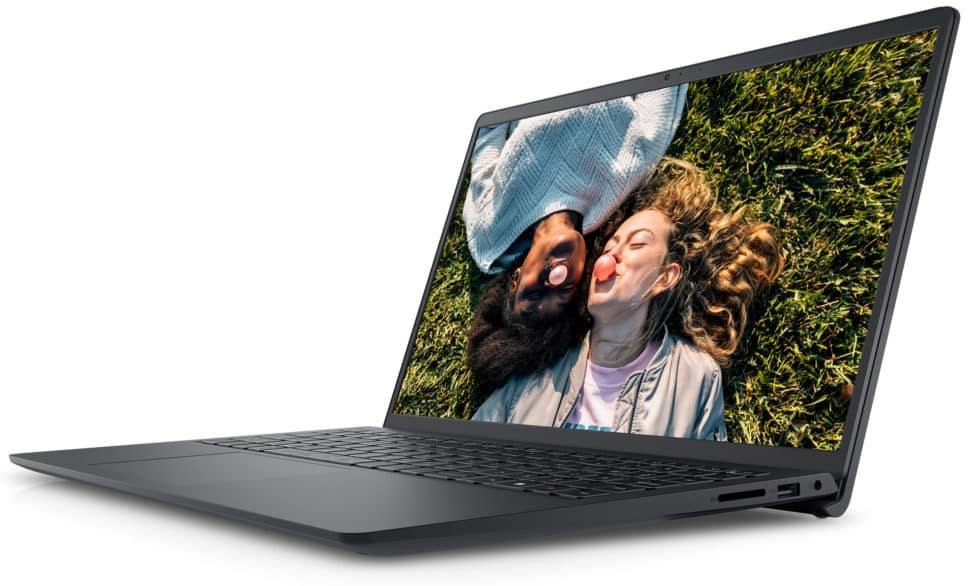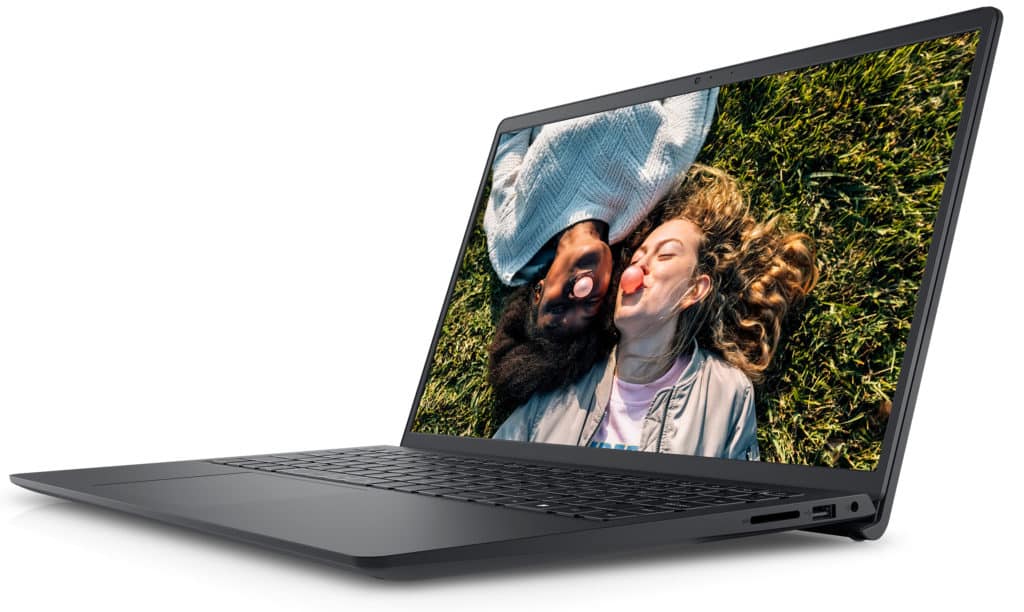 The Inspiron 15 3000 is quite a solid laptop. The laptop goes for $759.99with the current pricing on Dell's website. The laptop has 12 GB of RAM, and a whopping 512 GB SSD! Furthermore it uses a 10th generation Intel i5-1035G1 processor. These specs at this price seem like a steal! The physical build quality of this laptop is in the mid range, but this is expected at this price tag. It is built from plastic, but a durable sturdy kind. The battery can last up to 11 hours in some use cases, making it more than convenient for a full day of running your business. With the specs offered and that price tag, you really can't go wrong with the Inspiron 15 3000.
HP 17-cn0097nr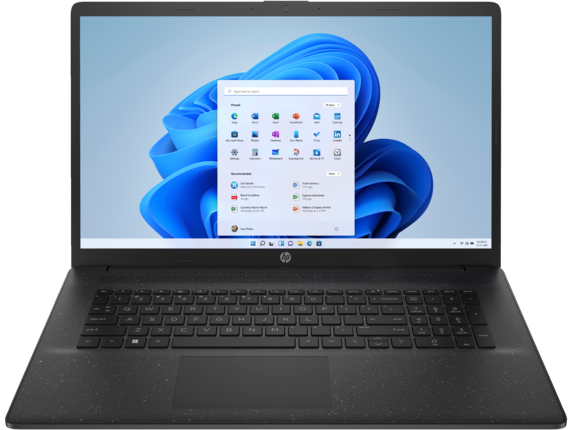 This HP laptop is the only laptop on this list to have a big 17.3″ screen. This is a great option for those who have a bit more difficult seeing things up close. This device also boasts a modern Intel i7 processor. The other specs are standard as it has 16GB RAM and a 256 GB SSD ON TOP of a 1TB HDD! This means fast start up times, while still having a lot of space for storage. Now it is a really bang for your buck laptop as it sits at $699.99 with HP's current holiday sales.
Refurbished 2015 Apple MacBook Pro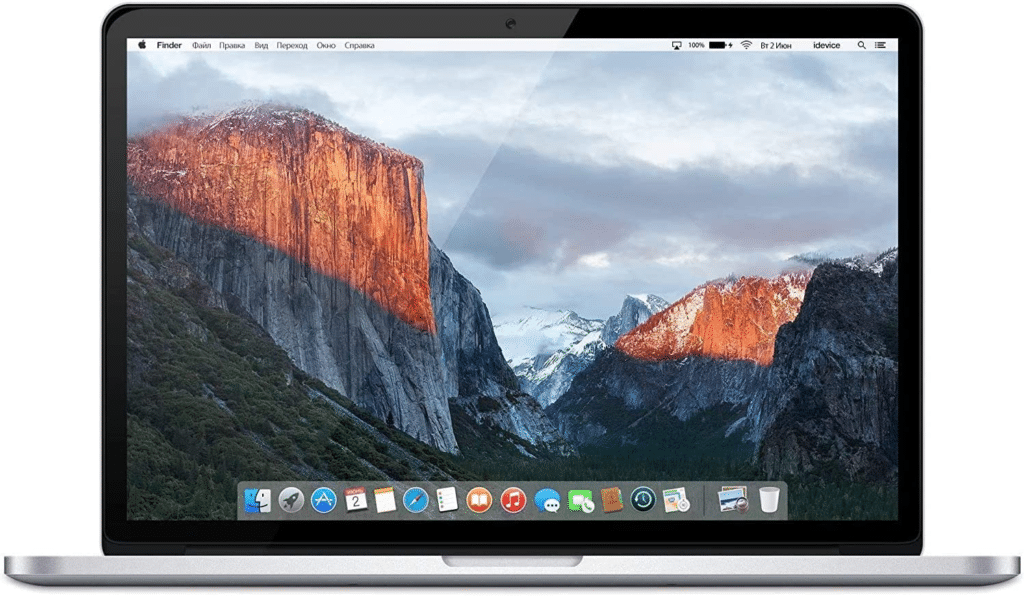 The cost of a brand new MacBook is way beyond the budget of this list. However, if you are still itching for a Mac computer – you can't go wrong with a refurbished MacBook. This refurbished 2015 MacBook Pro is going for $528.99 on Amazon right now. With 16 GB of RAM, a 256 GB SSD and a powerful Intel i7 processor, you'll be able to accomplish any of your business needs! Apple computers are well known for their top class build quality, so know you'll be getting a sturdy and beautiful laptop. Even for a 7 year old laptop, this machine still runs all the software a small business would need wonderfully!
Acer Swift 3
This is one of the smaller laptops on the list with a 14″ screen. But the small body of the computer in no way impacts the performance. This computer has an Intel i5-1135G7 CPU, 8 GB of RAM and a large 512 GB SSD. One of the benefits of the smaller screen is that it allows the batter to have a whole 13 hours of charge! The laptop is very light too at 2.56 lbs. A really sleek computer with a decent price point ($799.99).
Lenovo Yoga 7i (14") 2 in 1 Laptop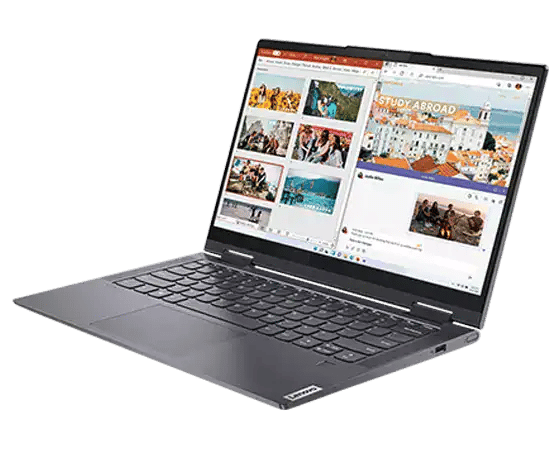 Lenovo makes some the best quality Windows laptops on the market, and their Yoga series is definitely a contributor. The Yoga 7i is a 2 in 1 laptop, so it can be used as both a traditional laptop or a tablet. The base model comes with an 11th generation i5-1135G7 CPU, 8 GB of RAM, and a 256 SSD. All of that is priced at $764.99, upgrades to some specs can be chosen on their website for additional costs. Since this laptop is also a 14″ screen, it can run up to 13 hours with full battery life. Even though the specs seem similar to others on this list, the higher price point comes from Lenovo's super high quality craftsmanship. These machines are similar to Macs in the sense that they are very durable and sleek. The durability is thanks to the use of high quality materials for the device.
Microsoft Surface Pro 7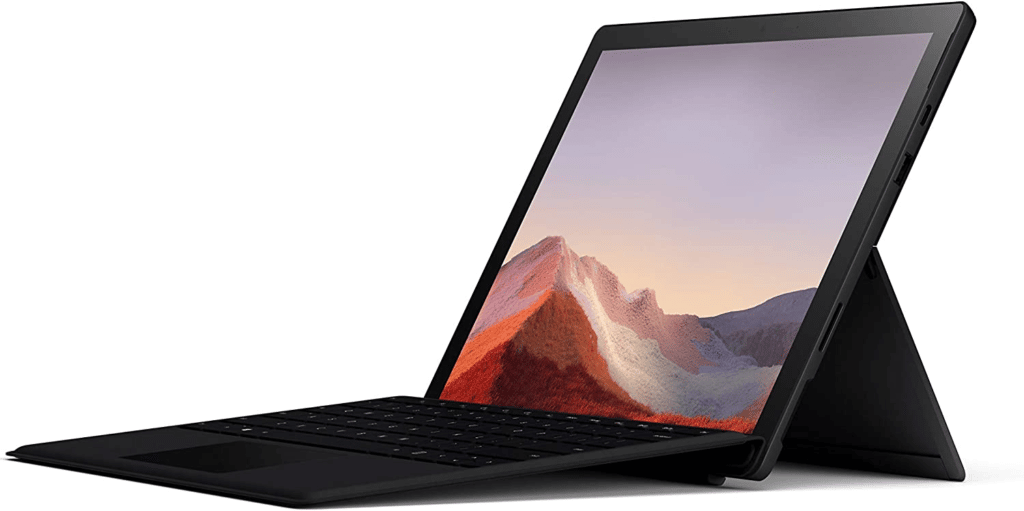 The surface laptops blur the line between tablets and laptops. Surfaces don't come with a built in keyboard (those can be purchased separately). But they are very sleek, modern, and powerful machines. The specs are as follows: 8 GB RAM, 256 GB SSD, and an Intel i5 8032. This machine is probably the least bang for your buck (especially at the $779.00 price point) compared to the other options on this list, but it is still a really well-built and a decently powerful machine.
2020 Lenovo ThinkPad E15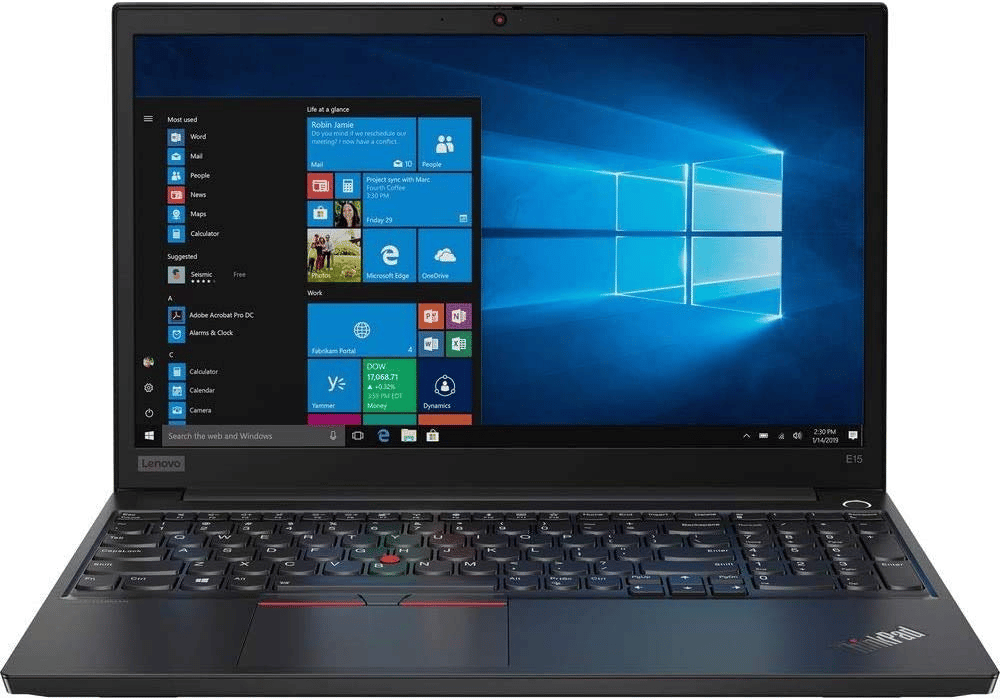 Lenovo ThinkPads have been a staple in almost any business sector for a long time, and there's a reason why. The ThinkPad series have some of the best security features in the industry. This specific ThinkPad has 16 GB of RAM, a 512 GB SSD, a 15″ screen, and a powerful Intel i5-10210U processor. All of this comes at a price tag of $808.99. Although this is the most expensive option on this list, it is also one of the best value laptops. At that price point the specs almost seem like a dream! Pair that up with Lenovo's top notch build quality and premium security features, and you have a top of the line laptop! If you are not constrained by tight budgets, we recommend this laptop the most out of everything on this list.
There you have it! TAKU's list of the best laptops for a small business. Now it should be mentioned that laptops in general don't have long lifespans compared to regular desktop computers. So if your budget allows it, you might want to invest in an even more expensive laptop. This way you can ensure your device will have a longer lifespan. You now have some computer knowledge to get a basic understanding when doing some laptop shopping. We hope you use the information provided to find the best laptop for your small business.
---
Now that you have a new laptop, why not learn about some of the great technology of tomorrow? Metaverse shopping will set new standards for the retail game. To stay ahead of the curve and learn more about shopping in the metaverse click here.