Retailers are beginning to prepare for the holiday shopping rush.
And considering this year's estimated spending of $8.8 billion, Halloween presents the perfect opportunity to kickstart your store's marketing before the holidays.
Halloween by the Numbers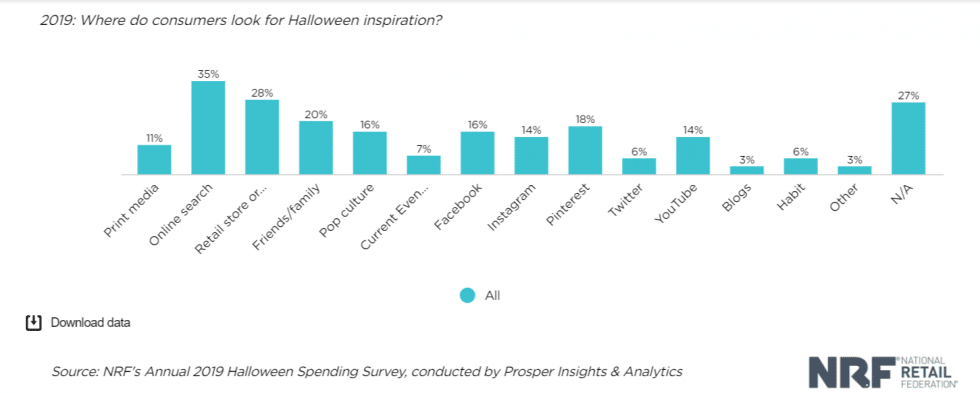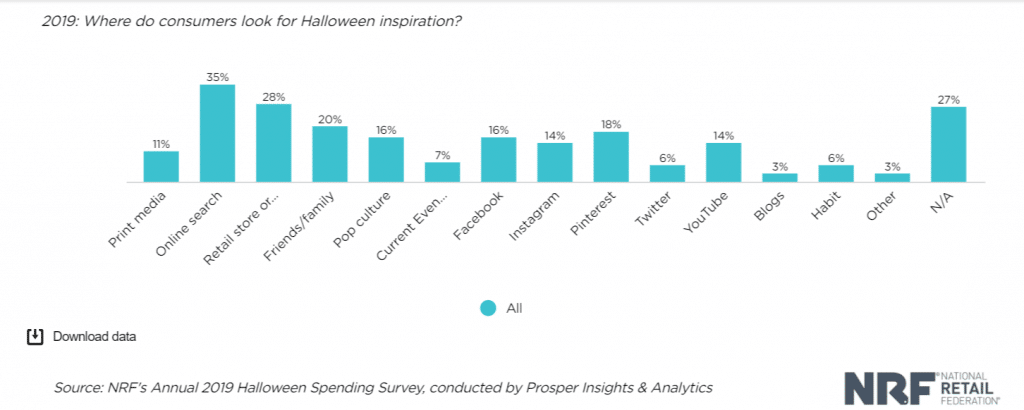 Based on the National Retail Federation's (NRF) Annual Halloween Spending Survey, 68% of shoppers plan on celebrating Halloween this year – spending an average of $86.27 per person.
And the top places that shoppers are gathering Halloween shopping inspiration are from online searches, inside physical retail stores, and through friends and family.
The post popular items that shoppers are planning on purchasing include candy (95%), costumes (67%), decorations (72%), and greeting cards (34%).


With these numbers in mind, we've put together a list of Halloween marketing ideas. Keep reading to find out how you can take advantage of these insights and sell more this Halloween season!
4 Halloween Marketing Ideas to Help you Sell More

1) Halloween Merchandising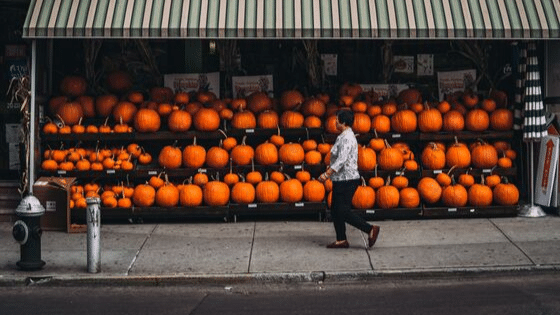 28% of shoppers plan on gathering Halloween shopping inspiration from inside physical retail stores.
So get shoppers through your door by displaying your Halloween merchandise (whether you plan on using an entire aisle or a single point-of-purchase display) at a prominent location. Ensuring that you have proper signage and a clear path leading shoppers to your Halloween-themed merchandise and displays, will also make them more likely to purchase.
Even if you're not in the business of selling costumes or other Halloween products, you can still spook out your store with some festive decorations and visual merchandising. Think about creating a window or point-of-purchase display that showcases products that you already sell – but with a Halloween twist. You can use spider webs, jack-o-lanterns, leaves, and Halloween colours (black,orange,red etc.) to spook things up.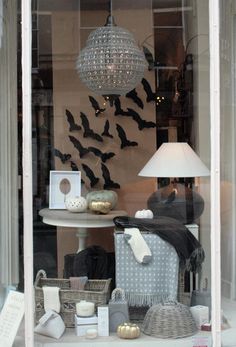 2) Halloween-ize your Online Presence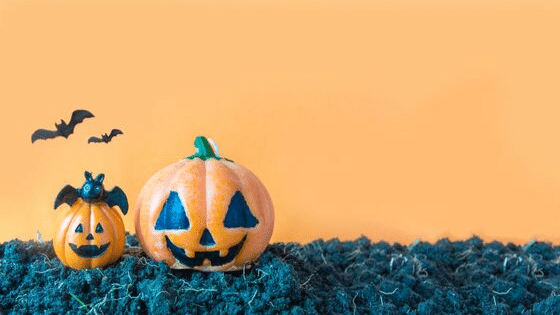 35% of shoppers site online search as their source of Halloween shopping inspiration. So in addition to dressing up your physical store for Halloween, it's also a good idea to add festive elements to your online presence as well.
Completely revamping your store's website is time-consuming and in some cases, it can be expensive. But adding a Halloween touch to your website can go a long way in getting shoppers in a festive spirit. Including Halloween images on your homepage (download free Halloween stock images here), fixing themed add-ons, and adding pop-up designs are all cost-effective and easy ways to add a spooky feel.
You can also drive more shoppers to your website by creating a separate page (a landing page) dedicated to Halloween. Here are a few tips:
Create a Halloween gift guide for your shoppers that features all of your Halloween merchandise. If you don't sell Halloween merchandise, consider posting helpful Halloween content. Some good content or blog post ideas include: "Halloween costume ideas for children", "Halloween decor ideas","DIY costumes for adults", and "tips for hosting a Halloween party".
Use Halloween keywords (this will help your store appear higher up in search).
Promote any Halloween discounts or promotions that you are holding.
Don't forget to decorate your social media and email marketing campaigns for Halloween as well!
3) Google Local Inventory Ads (LIAs)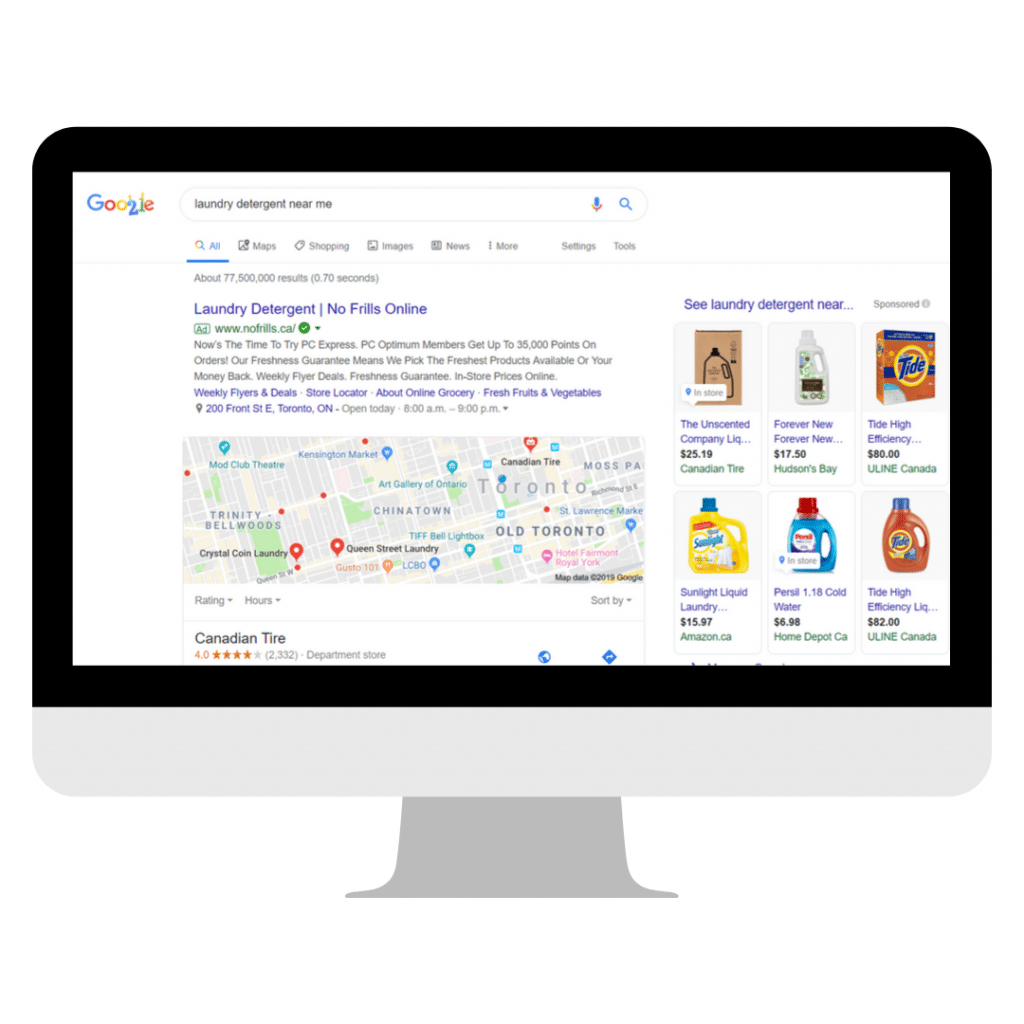 Considering that the majority of shoppers are planning to use a search engine as a source for shopping inspiration, it is also a good idea to run local inventory ads on Google. These ads are tailored to users based on their location. So when a shopper searches for Halloween related merchandise, they will be shown in-stock product of local retailers in the area.
Running Google local inventory ads (LIAs) is an effective strategy that many retailers have leveraged to drive foot traffic. In fact, Best Buy drove over 1 million shoppers to their stores with Google LIAs. The ads also resulted in a 44% increase in clicks to their website.
Here are a few tips for optimizing your Google LIA campaigns:
Target mobile shoppers: shoppers are searching on their phone before visiting physical stores – to ensure that their trip is worth it. In fact, 86% of Canadian shoppers said they will go to the store to buy when that store has an item they need or want immediately. You can target mobile shoppers by placing a positive mobile bid adjustment to your campaigns. It's best to boost ad groups/campaigns that have strong mobile performance.
Adjust for high traffic hours: while you want to keep ads active 24/7, it is a good idea to boost ad performance during high traffic hours. This includes the hours that your store is open and when your shoppers are most likely to search.
Consider physical location: It is probable that shoppers from all parts of your city are interested in your products. But users closest to your store (20-35 km radius) are much more likely to visit. Target local shoppers by increasing bids for users that are closest to your store.
For more information on how your retail store can easily implement Google LIAs to increase foot traffic and sales, click here.
4) Add Halloween Products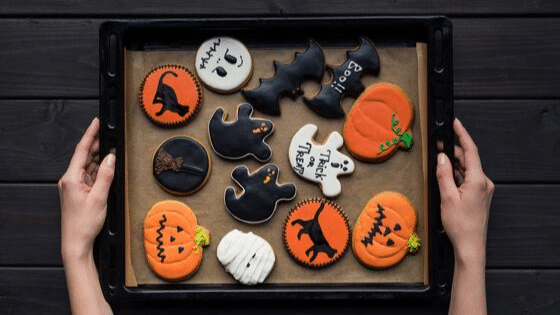 If your store doesn't sell any Halloween merchandise, you may want to consider selling seasonal items to boost your store sales. After all, Halloween is a billion dollar industry.
To help you decide which items to sell/what would work best for your store, think about referencing last year's shopping trends (shown above).
The following are some good examples of how retailers can add in popular seasonal offerings:
---
Happy Halloween and happy selling!
We will be posting more holiday related articles in the upcoming weeks. Keep an eye out on our blog or subscribe for more holiday marketing tips.
#halloween #retail #increasesales #retailmarketing #marketingtips #builtforretail #retailpos #cloudpos