Post updated on June 15th, 2022.
Father's Day is just a few days away! And although the holiday is not as big as Mother's Day, retailers can still take advantage of the special day to increase their store sales.
In fact, it is expected to be the biggest Father's Day in retail yet! Shoppers celebrating Father's Day this year are expected to spend on $171.79 on average.
So keep reading to find out how you can take advantage of shopper spending habits.
Offer a Free Father's Day Gift With Every Purchase
"Gift with purchase" promotions are a great way to increase your store's average order value. This type of promotion offers every shopper who spends a certain amount in-store, a free item (a gift-box, gift-card, store merchandise etc.).
I mean what shopper doesn't like free items?
Uniqlo is a great example of a retailer that successfully implemented this strategy. For every $50 spent in-store, Uniqlo shoppers received a free Father's Day gift box.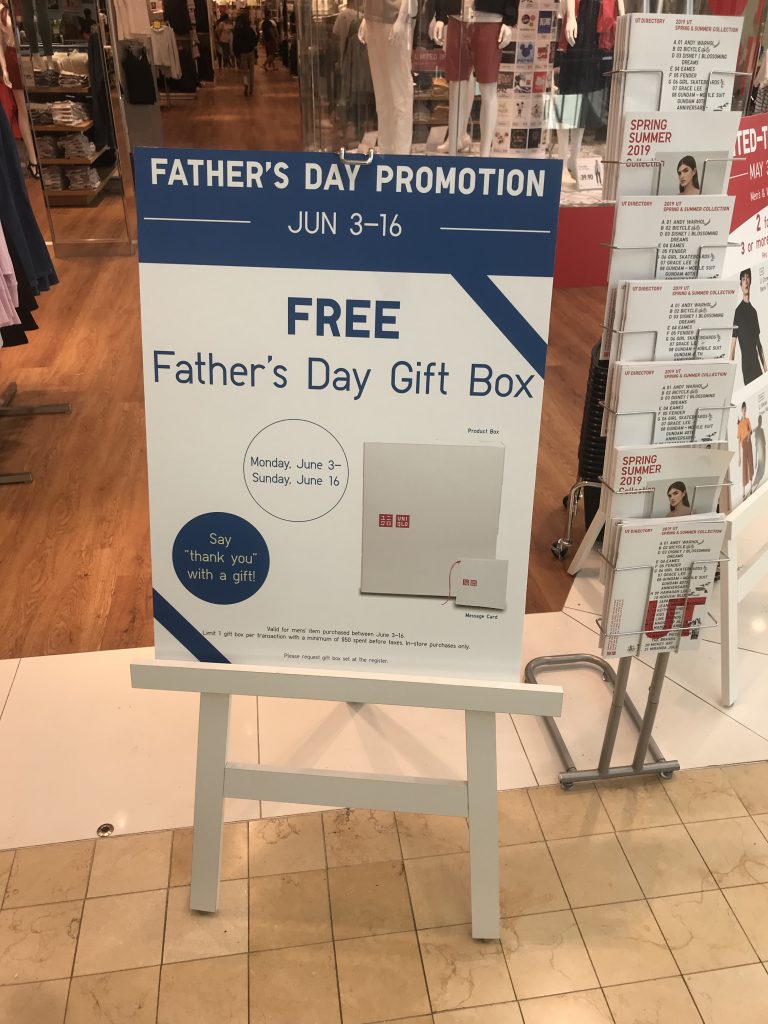 "Gift with purchase" promotions can increase your store sales because:
1) It makes it easy to up-sell. Say for instance, a shopper is checking out and they are $5 dollars away from receiving a free item. This promotion strategy will encourage them to go back and purchase additional merchandise – increasing your store's average order value!
2) It drives traffic to your store. Offering limited time, in-store promotions will create a sense of urgency in shoppers. "Gift with purchase" promotions make it seem like shoppers are getting a higher value for a lower cost. Simply put, shoppers will feel that they are getting more than what they paid for – making it harder for them to walk away.
Run a Father's Day Digital Marketing Campaign
According to the NRF, over half (57%) of smart phone/tablet users are planning on using their devices to help with Father's Day gifting decisions. So it's important that you take advantage of the web to increase your Father's Day retail sales.
There are many ways you can do this – from running Google Shopping campaigns to e-mail marketing to social media.
Click here if you want to learn more about the benefits of digital marketing.
Here are a few tips for running your Father's Day digital marketing campaign:
1) Optimize your website for Father's Day
You can do this by creating a Father's Day landing page (a separate page on your company website created specifically for a marketing campaign).
On your landing page you want to make sure to:
Use Father's Day related keywords so you can appear higher up in search results. Promote your in-store offers and Father's Day related sales/discounts. Feature a gift guide that includes all of your Father's Day merchandise.
38% of shoppers are expected to use their mobile device to research products. So make sure your landing page is optimized for mobile.
2) Use E-mail Marketing to Your Advantage
E-mail marketing is one of the most effective digital marketing toolsavailable to retailers. So use it to promote your Father's Day marketing campaign!
Here are some important details you may want to consider including in your e-mail marketing campaign:
3) Run a Social Media Contest
Holding a Father's Day social media contest is an inexpensive and effective way to engage with shoppers. And ultimately increase your sales!
Here are some things to keep in mind:
Incentivize shoppers to follow your social accounts. You can do this by making it a rule or condition of the contest.
Make sure to include a valuable prize (a store gift card, popular merchandise, a gift basket etc.) so that shoppers are motivated to enter.
Make it easy to enter. The easier your contest is to enter, the more attractive it will appear to shoppers.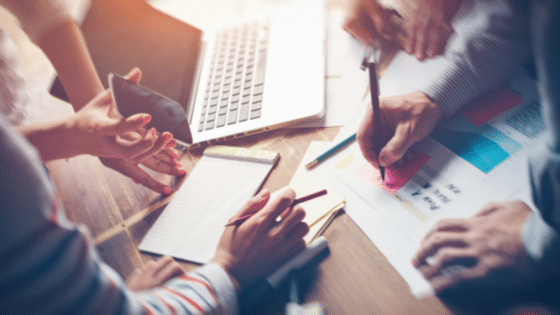 Father's Day In-store Promotions and Sales
Offering discounted merchandise and in-store promotions can increase demand! In fact,17% of shoppers state that finding a cost effective gift is most important when picking out a gift this Father's Day.
Effective in-store promotions and sales include:
Buy one get one free (BOGO) deals. Shoppers have a hard time staying away from these deals! This is because they feel that they are getting more bang for their buck. It also encourages them to buy higher priced merchandise.
Discounted Merchandise. Reducing prices on all or select merchandise can be extremely effective in increasing store sales. When backed by a great marketing campaign, it helps 1) increase traffic to your store 2) sell overstocked or slow moving merchandise and 3) produce brand awareness for your store.
Host an In-Store Father's Day Event
47% of Father's Day shoppers have stated that they are looking to gift a special outing. So host a Father's Day event for local families in your area!
Hosting an event is a great way to drive new and existing shoppers to your store. There are different ways to provide a fun and memorable experience for local shoppers. Some great ideas include:
Hosting a "Kid's Craft for Dad" event where children are invited to create art for their fathers.
Hosting a Father's Day photo session. Make sure to set up a nice backdrop in your store. You can also create an incentive for shoppers to share their pictures on social media – by running a contest! For example, shoppers who share the post on social media and tag your store can be eligible for a $100 gift card.
Hosting a BBQ or block party. Think about holding Father's Day themed games so fathers can compete with their children!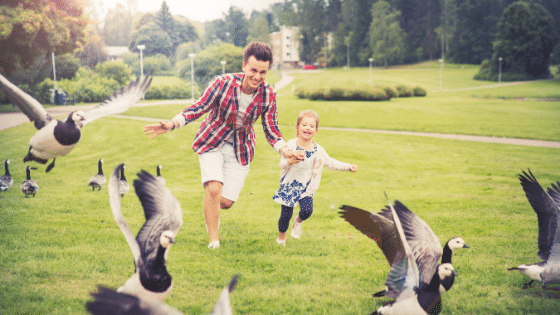 Create Father's Day Basket Bundles
45% of shoppers state that finding a unique or special gift is most important when picking out a Father's Day gift. So offer shoppers uniquely themed Father's Day baskets!
Some good ideas include a "handyman toolbox" or a "hole in one" golf gift basket.
Click here for more basket bundle ideas.
Selling gift basket bundles is a great way to increase sales while offering shoppers a convenient and special gift. It's important that you bundle your best selling merchandise with slow sellers. This way, you can get rid of slow moving stock – freeing up your shelf space for new inventory.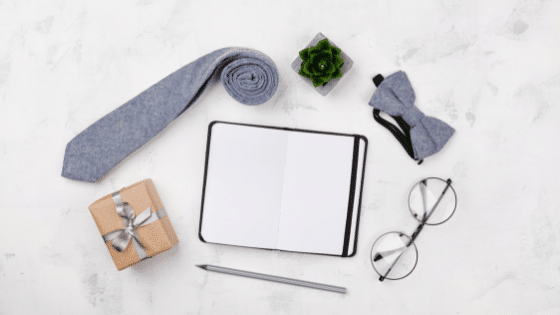 Make Shopping at Your Store Convenient
Approximately 1/4 of shoppers state that they are looking to find a gift that is convenient. So it's important you create a Father's Day section both in your physical store and on your website.
Creating a point-of-purchase display with all of your Father's Day merchandise is a good idea. This makes it easy for shoppers to find a gift of interest – rather than walking through multiple aisles to search for one.
As mentioned above, it is also a good idea to create a separate page on your website for Father's Day. To make things even more convenient, display your Father's Day gift guide or give your shoppers product recommendations.
Other ways to provide convenience include offering:
Gift wrapping services.
Father's Day cards as add-on's to every purchase.
Smaller gift baskets at checkout so shoppers can easily and affordably add to their orders.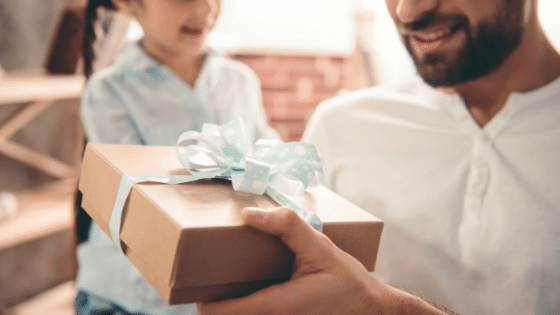 ---
We hope you found these tips helpful. Happy Father's Day and happy selling!
#retailsales #retailmarketing #retailpos #FathersDay #increaseretailsales #builtforretail