Many people think that shipping out an order is the same as 'fulfilling it'. In reality fulfilling an order means much more than shipping a package out. In retail, the term "fulfillment" refers to everything a retailer does from the moment a customer places an order. While many think that order fulfillment means shipping out online order from a warehouse (this is likely because of Amazon fulfillments centers), this is actually only one of many ways to get orders to a customer.
For example, retailers with existing physical stores can also fulfill online sales by packing online orders for in-store pickup. In comparison, in-store pickup is generally a lot cheaper than shipping online orders out from a warehouse as you don't need to pay for packing materials or shipping fees.
What is order fulfillment?
As we've mentioned – fulfilling orders includes the process of receiving an order then getting it to the customer. It can also include supply chain tasks such as inventory management, quality control and customer support as part of order fulfillment.
The term "order fulfillment" tends to sound complex and seems only suitable for very large businesses. In reality, fulfillment is something businesses have been doing for decades now. In the past, customers often made orders through phone calls, fax machines, or even coming into the store. Stores would prepare these orders for pickup or ship out. In other words, stores had to "fulfill" these orders.
The difference today is that most order fulfillment is for ecommerce and that most retailers have a catalog of their products online because shoppers expect to be able to see what products a store carries. This is why it is so important to have an online catalog that shows off all your merchandise. While an online store is great, having any product showcase (e.g. Google's free See What's In Store feature) helps nearby stores be found online. And a modern omnichannel retail system makes it easy and fast to display POS products online in a few clicks.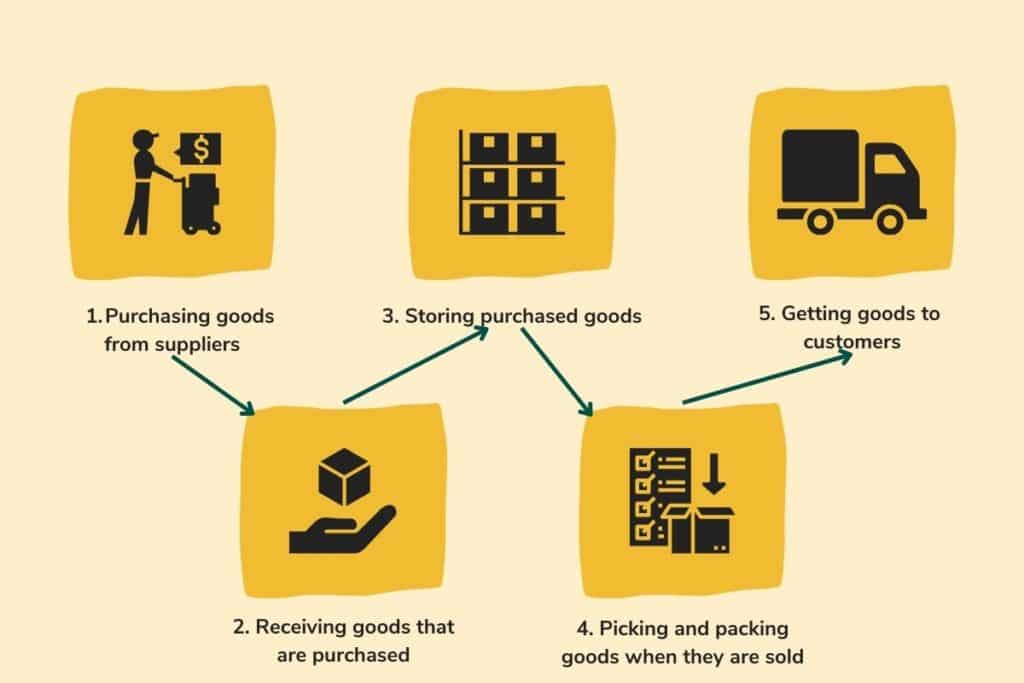 While there are many different steps in order fulfillment, the main ones are:
Purchasing goods from suppliers
Receiving goods that are purchased
Storing purchased goods until they are sold
Picking and packing goods when they are sold
Getting goods to customers
Most physical stores are familiar with steps 1 to 4. However, since the pandemic, the way many brick & mortar retailers are handling step 5 has changed. While merchants relied a lot on shippers and last-mile delivery services (e.g. DoorDash) in the beginning of the pandemic, as the cost of packaging materials and fuel surcharges has increased, more physical stores are looking at in-store fulfillment options today. For example, with BOPIS orders (buy online pickup in-store), 'shipping out' is replaced with customer self-pickup or in-store fulfillment.
The benefits of in-store fulfillment
Some of the perks of in-store fulfillment are:
It helps you compete with bigger ecommerce companies as you can give your local audience a custom and personalized experience during pickup
It's faster for nearby shoppers to get their orders
It helps you get rid of shipping costs to send products out or return products
It helps you make bigger sales since shoppers often buy additional items during pickup
It lowers return costs as orders picked up in store have lower return rates
Some challenges around in-store fulfillment
In-store fulfillment isn't all rainbows and sunshine. There are some challenges you need to be aware of if you are going to be fulfilling orders from in-store. Here are some roadblocks you may face:
The need to change the store layout to make it faster for pickup shoppers
The need for better back office processes to allow for quick picking and packing once an order is received
Linking data between store POS systems and online stores
Many POS systems do not offer the tools needed to track everything you need for in-store fulfillment. Modern omnichannel POS systems such as TAKU make order fulfillment a breeze. They make it possible for you to:
Manage all of your in-store and online inventory in one place
Sell any inventory in your POS online with just a few clicks
Always know exactly how much available inventory stock you have with real-time on-hand quantity
Automatically showcase products and real-time stock availability in Google searches, Facebook Shop or Instagram Shop
These are just a couple of the benefits retail stores will gain from using a modern cloud-based system today. Click here to learn more about how TAKU can help you save money and sell more today.
---
Confused by some words in the retail industry? Read up on the essential retail terms and their definitions with our Retail Glossary here!