👇👇👇 Scroll to Download the PDF Version of our COVID-19 Survival Tips for Retailers!!
For retailers dealing with the impact of COVID-19, shutting down may not be an immediate option, particularly if they are an essential business in their community. Over the past 10 days, we've spoken with many small businesses who are looking for ways to better manage the impact. Scroll down for tips on how you can minimize the impact of COVID-19:
Sell Online and Stay in Contact with your Customers
Add or Expand Digital Sales Channels including e-commerce for shipment or pick-up in store. Read more regarding the TAKU special offer to support local businesses who want to start selling online.
Offer Contact-less Options. It is expected that shopper behaviour will be significantly impacted by COVID-19 at least until there is a vaccine developed next year. This means that shoppers will have health and safety top-of-mind for the foreseeable future. Prepare now to make sure you are prepared before your competitors. Take this time to set up "Leave At My Door" delivery options or "pre-scheduled contactless curbside pickup" with orders placed online, by phone, fax or email. These are great options as you have confirmed pre-paid sales before you pack an order, you minimize staff and customer exposure and you avoid the cost of packaging products for shipment.
Make sure you have a Google My Business profile and keep your store hours up-to-date. For a limited time, Google will be showcasing any Posts made on merchant GMB profiles to people searching locally to ensure that local businesses get more coverage in their community. GMB Local Posts are a free (!!) and effective way to stand out in local searches and update shoppers about any new offers, delivery options, etc
Join Local Social Media Support Groups to stay engaged with the community. These are not commercial spaces so don't sell unless it's appropriate but find out what your community needs. Here is a great example of a small business that found a way to give back.
Connect with local businesses to pool resources. Large retailers who rely on delivery such as Amazon can't ship products in a timely manner anymore. There may be an opportunity for your local businesses to step up, particularly if you supply complementary products by offering local delivery together.
Keep an eye out for government Requests for Proposals if you're in a position to re-tool your business to help address the challenge of COVID-19..
Look for ways to leverage the new "Stay-at-home Economy," the new market created by demand from family, friends and children in self-isolation as a result of coronavirus. There are reports of sizable increases in at-home related categories including: personal fitness gear, home office equipment, indoor games, home and garden supplies, educational materials and books, hobbies, entertainment-related electronics, direct-to-consumer (DTC) friendly products suitable for mail-order subscriptions such as coffee, etc.
Keep an eye on your POS sales data to see if there are new trends to make sure you are stocking and promoting the products that shoppers want now vs. what they wanted to buy a few months ago.
Take advantage of marketing offers to get free ad credits to reduce the cost of staying in contact with customers. For example, Google has announced $340 million in Google Ads credits available to all SMBs with active accounts over the past year. Credit notifications will appear in your existing Google Ads accounts and can be used at any point until the end of 2020 across Google advertising platforms.
Be flexible and don't be afraid to take action. A flexible and adaptable mindset is what will get you through this crisis. The situation is changing day-by-day which means you will need to make adjustments in your response. Even if you come up against resistance in the beginning, shoppers will eventually come around because people still need to buy and consume things.
Expect long-term changes in shopper behavior. While some pre-crisis shopper behavior will return, this pandemic will have long-term impact on general shopping behavior. Make sure you're aware of those changes and adapt your business to match them. My parents are both over the age of 70 and have never ordered anything online in their lives. While they still prefer shopping in stores, needless to say, they are both avid online grocery shoppers now and will likely continue to buy more online in the future as they find it more convenient for re-stocking.
If sell B2B, find a way to pivot to target recession-resistant or essential companies as they will be the most likely to invest in new products or services.
In-Store Management Tips
1) Encourage Visible Hygiene Management in store by having all staff use gloves or wear masks. Have hand sanitizers readily available at the checkout area, near doors with handles, etc. If possible, have staff wipe baskets or trolley handles before passing them to shoppers.
2) Have clear signage to help customers understand the impact of COVID-19 on your store and what to expect for their shopping experience. Download these signs from CFIB to customize for your own business: Temporary Closure Notice, Safety Notice to Visitors
3) Pre-pack bulk goods such as fresh produce wherever possible to minimize touch. Stop offering samples unless they are pre-packaged.
4) Encourage Social Distance In Store by increasing the space in the checkout area between cashiers and where shoppers are waiting to pay. It's as simple as adding tape on the floor to clearly show where shoppers need to stand as Walmart has done. Costco has famously used pallets to enforce social distance requirements in an orderly fashion.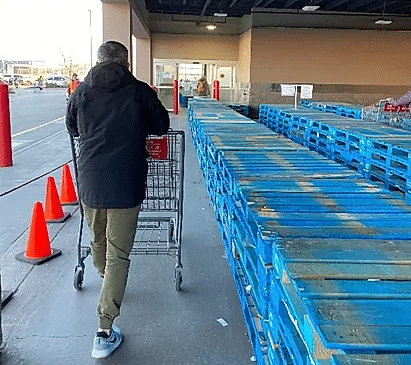 5) Merchandise for fast retail as most shoppers will be shopping for necessity versus discovery. Keeping in mind the social distance required for safety, you will want to consider moving fast-moving goods in an easier to access location.
6) Put up transparent barriers wherever possible to minimize transmission while protecting staff.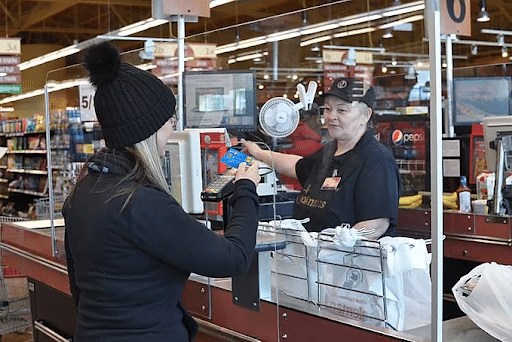 7) Encourage "Contactless" Payments (e.g. tap or Apple Pay) and discourage the use of cash to protect your staff wherever possible. You may even want to increase your "contactless" limit with your merchant processor but remember that you are liable for any potential chargebacks on "contactless" payments.
8) If you are an essential business that is still sourcing, pay special attention to your supply chain. Anything sourced from areas dealing with a surge in COVID-19 cases will need alternatives in place. If necessary, even look at your suppliers' suppliers for critical products.
9) Minimize Any Processes that Require Touch such as loyalty programs that require a tablet or credit card terminals that require optional prompts. Print out a QR code or signage for your web site and encourage users to sign up on their own phones.
10) Review Receipt Management Procedures to train staff to put receipts directly into shopping bags instead of handing them to customers or, even better, ask if they are ok to receive their receipts by email. Remember that privacy regulations require that you get positive customer consent to save their emails for future use so use an integrated email marketing tool to capture consent that will allow customers to unsubscribe themselves.
11) Sell In Store Gift Cards with an Incentive (e.g. extra $15 for every $100 gift card) to encourage shoppers to come back to the store when things are back to normal.
12) Offer Free Pens to shoppers who don't have their own. It's a cost-effective gift that discourages the use of public pens and helps customers remember you. Remember to minimize touch when offering them.
13) Communicate Proper Treatment Procedures when staff are sick. Make sure all managers and staff know what to do when they are sick. There is a lot of information out there – be sure to refer to the most credible medical sources in your country. In Canada, that will mean the public health authorities for your province or territory. In the US, the CDC is a reliable authority for guidance. For further details, you can also review the steps to prepare worksplaces for COVID-19 published by the WHO.
14) Minimize the Number of Shoppers In-Store to protect your own employees and make sure that shoppers are both comfortable and safe while in your store.
15) Encourage or Support Donations of Essential Supplies to local hospitals to protect frontline healthcare workers where supplies are short. This is one of the local PPE (personal protective equipment) drives for the Toronto GTA area.
16) Limit Stock Quantities for any essential household and medical products to avoid stock outs. #WeAreAllInThisTogether
---
For more information regarding government grants and relief programs, click here.