With Halloween just around the corner, it's the most festive time of year for retailers. Halloween merchandising, if done well, can help get your store ready for this fun, spooky holiday. Whether you still need to decorate or just want to add a little something to improve your existing decor, we're here to share 8 Halloween merchandising idea that are fun, creative, and easy for busy stores to set up.
1. Pumpkin in-store displays
Starting off with this classic Halloween display, you probably already have them in your displays or have used them before. Whether they're real or fake, they make great displays because they're automatically associated with Autumn. This means you can keep them past Halloween since they perfect for Thanksgiving too. Placing pumpkins around product displays just adds that little bit of color to give your display that Halloween/Autumn spirit.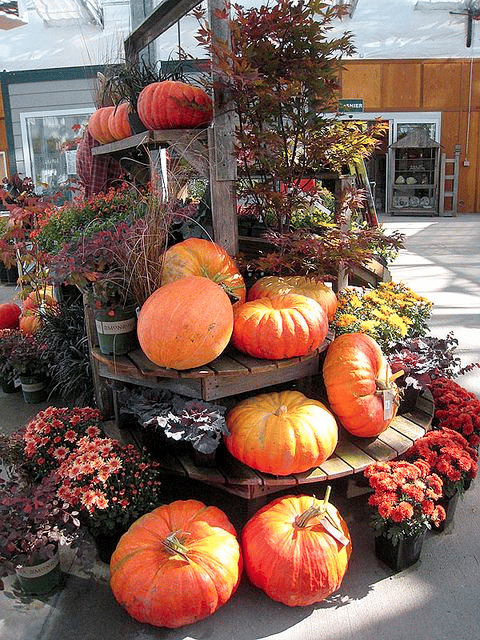 2. Mannequins
If you already own mannequins in your store, this is a great way to utilize them for the fall season. Mannequins are extremely versatile for Halloween merchandising ideas. You can either decorate it to show off fall outfits ideas using items from your store if you sell clothing.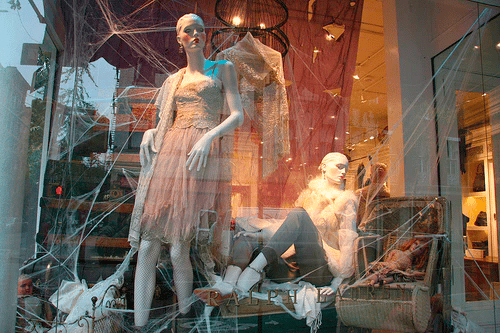 If you don't sell clothing but still want to use mannequins in your display, you can make it look like a scene from a scary movie, make it funny and lighthearted, or even put a pumpkin head on the mannequins.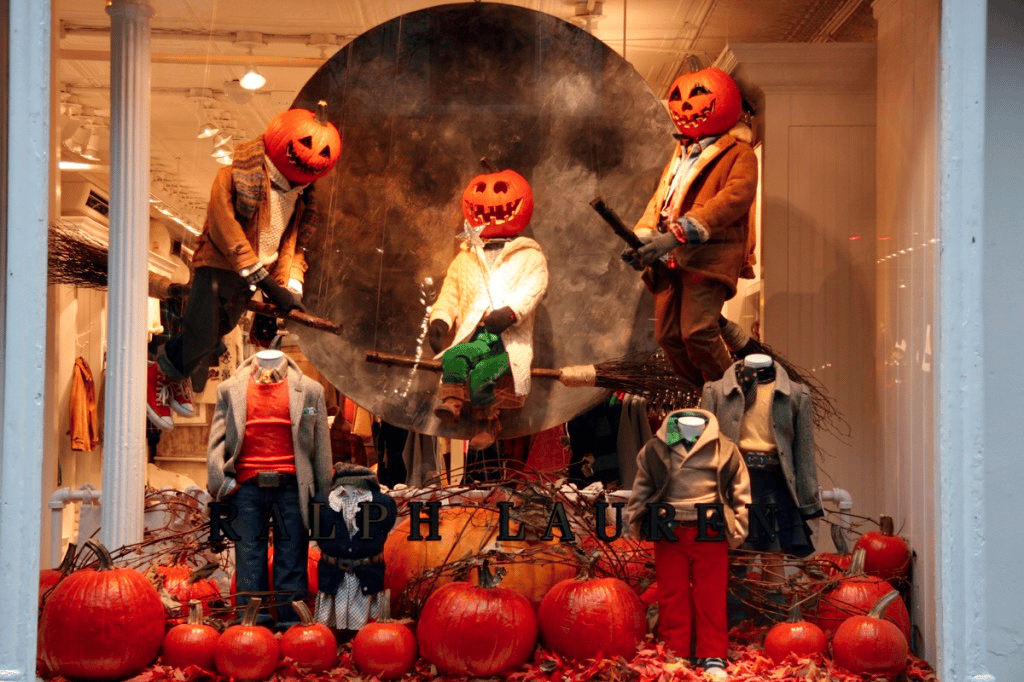 3. Use products to create Halloween art pieces
If you don't have a large budget, but still want to decorate your product displays, you can instead use those products to create a fun display such as the soda wall below. But there's no need to do anything as large as the example below. You can do a smaller design with whatever you have in stock and get creative!
4. Using shadows in Halloween merchandising
This is one of the more ingenious Halloween merchandising ideas – using shadows and silhouettes as decorations. This is definitely a great alternative to buying large and expensive Halloween pieces. They can add dimension and detail to your displays, and as long as you have a light source and a suitable shape to help create the silhouette with. Get as creative as you want and try adjusting the sizing and look of the shadow easily by moving the light source around to get different angles.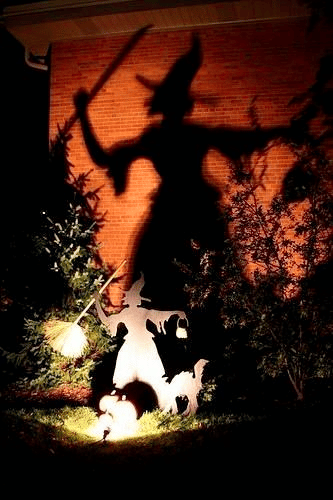 5. Bat walls on store displays
A bat wall can serve as a perfect background for your product displays since it can take up a large space while adding a halloween look to your store. You can hang bat cutouts from the ceiling using fishing string or other alternatives, put them on some sort of board like the example below, or stick them on display items. Do whatever looks and feels best for your store!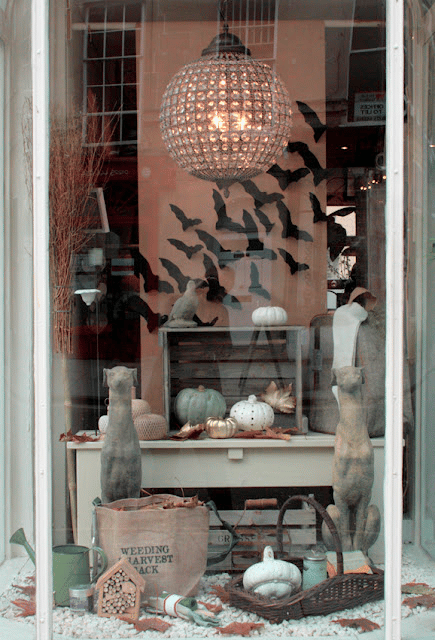 6. Halloween Banners
Halloween banners are a simple, festive type of decoration that are easy to set up.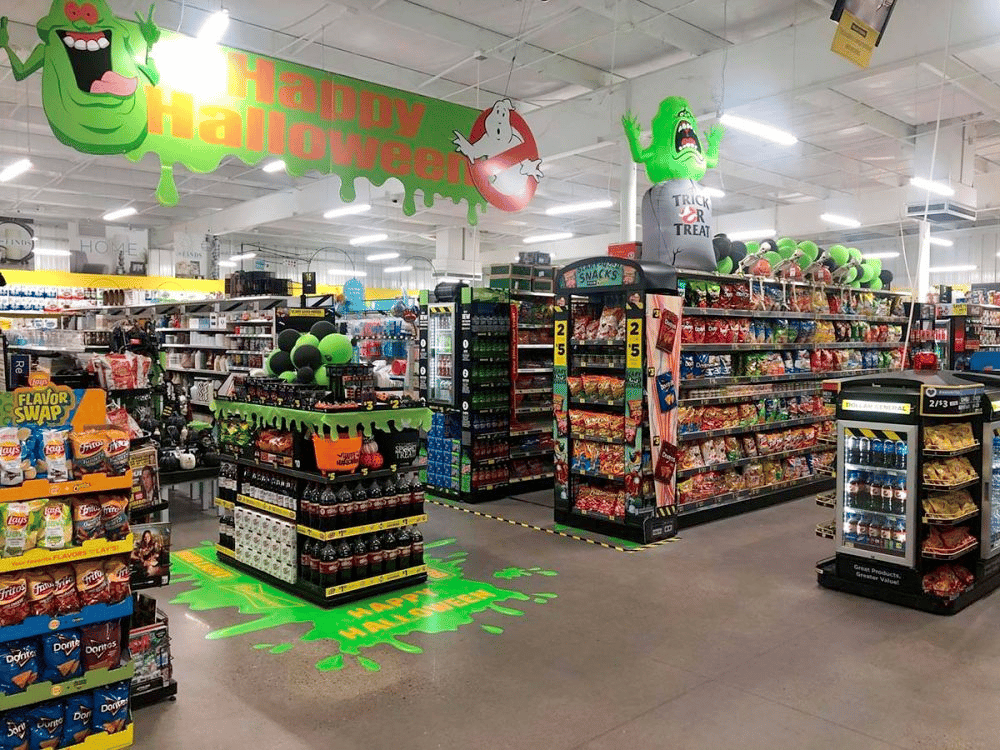 Look for simple banners that say 'Happy Halloween" or a strand of small ghosts like the example below. Just hang them next to product displays to ensure that they are visible!
7. Candy displays
Halloween isn't all just about the spooky stuff, especially when trick-or-treating is such a big part of the holiday. If you sell candy, a Halloween-themed sweets section is the best way to sell as much product as possible.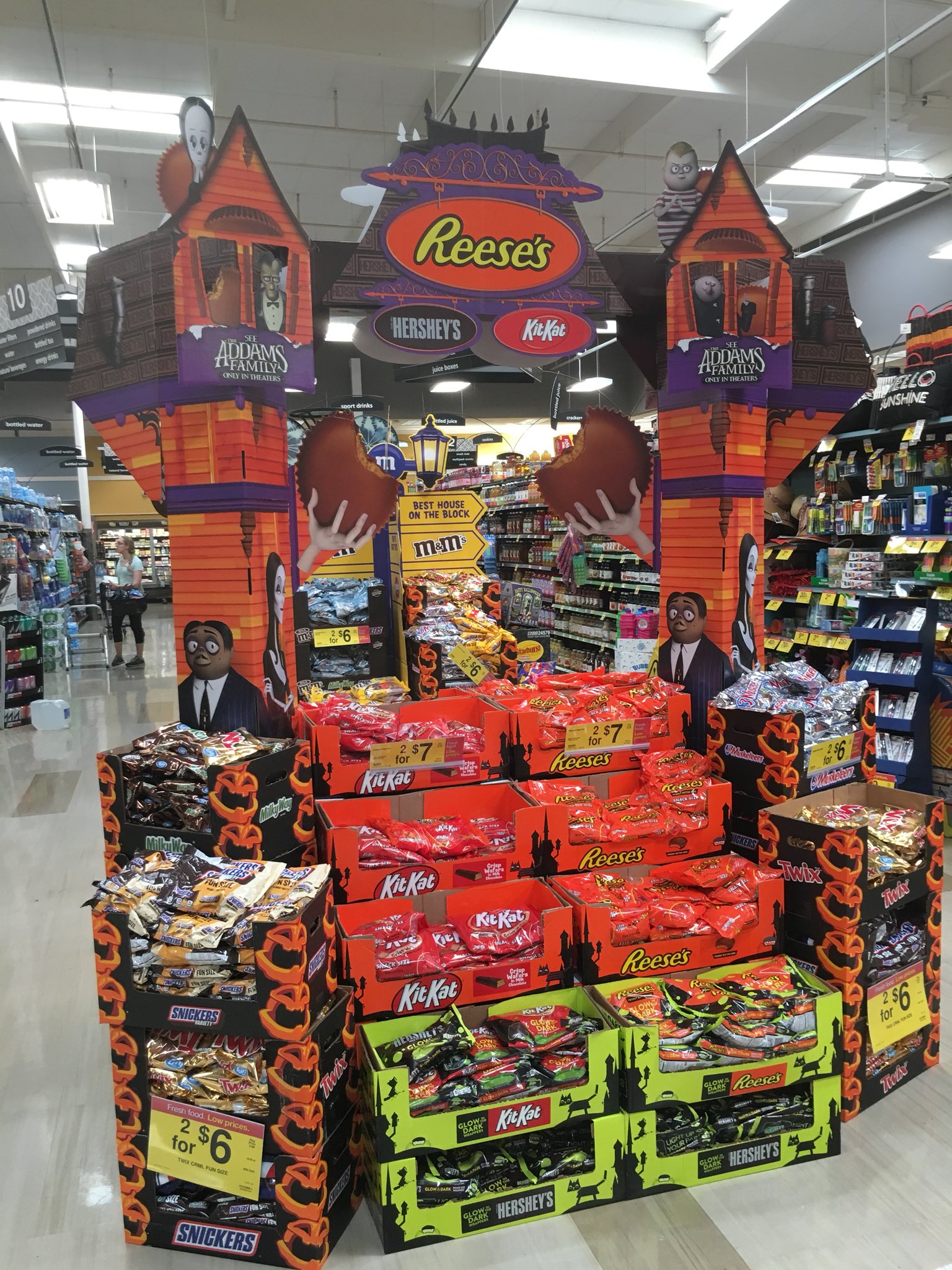 8. Spiders
If you're looking for a scarier display for your store, try using some creepy crawlies to spice things up. A classic Halloween decoration that will effectively make passersby look and possibly post about your store on social media. Big spiders, small spiders, a lot of them or just a couple, adjust it to your own liking. Spiders just have a way of adding that Halloween feel to any Halloween merchandising display.
To add more to the spider theme, you should consider adding spider webs as well! Spiderwebs themselves still have a very creepy look to them. So don't be afraid to experiment with different looks such as cobwebs like the one in the example below. The best part of this Halloween merchandising idea is that you can add webs to any display and instantly add a bit of a Halloween flair to it.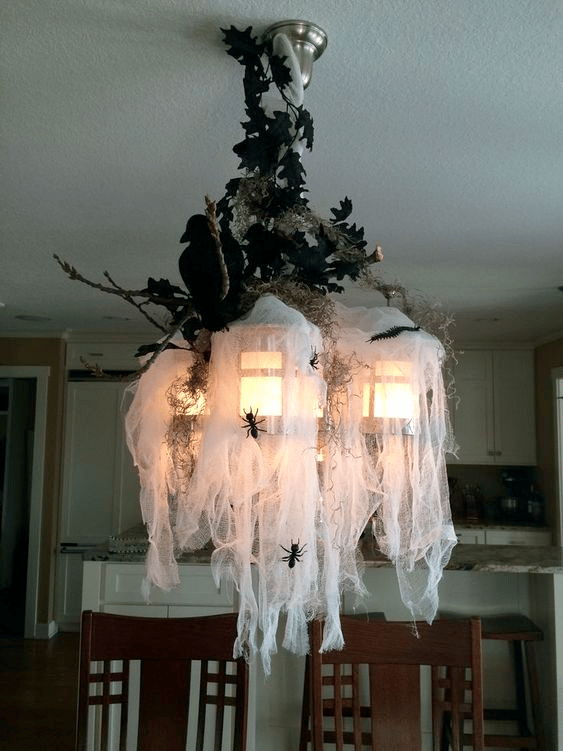 ---
We hope you're ready to get into the spooky spirit this Halloween season. With these Halloween merchandising ideas, we are sure your store will be spooktacular! Don't forget to check out our previous blog posts such as our Halloween Marketing Resources for free images for your social media posts. Happy Halloween!

---