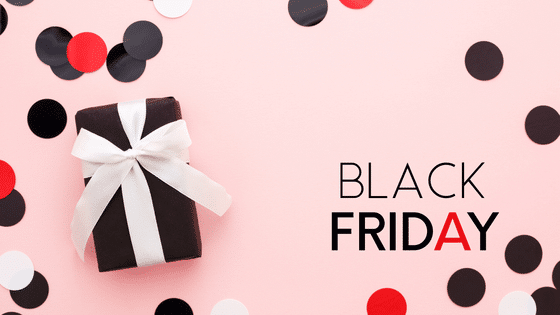 The five day Thanksgiving weekend (American Thanksgiving through to Cyber Monday) is one of the biggest shopping events of the year.
According to the NRF, the average shopper spent $313.29 during the five day period in 2018.
For retailers, this presents the perfect opportunity to attract more shoppers with Black Friday marketing and as a result, increase store visits and sales.
But in order to take full advantage of the holiday weekend, retailers need to be prepared to meet shopper demand and expectations.
Black Friday Shopper Insights and Trends
While shoppers are expected to shop all weekend long, Black Friday has remained the busiest day for in-store shopping with more than 67 million shoppers participating last year and 114.6 million expected to participate this year.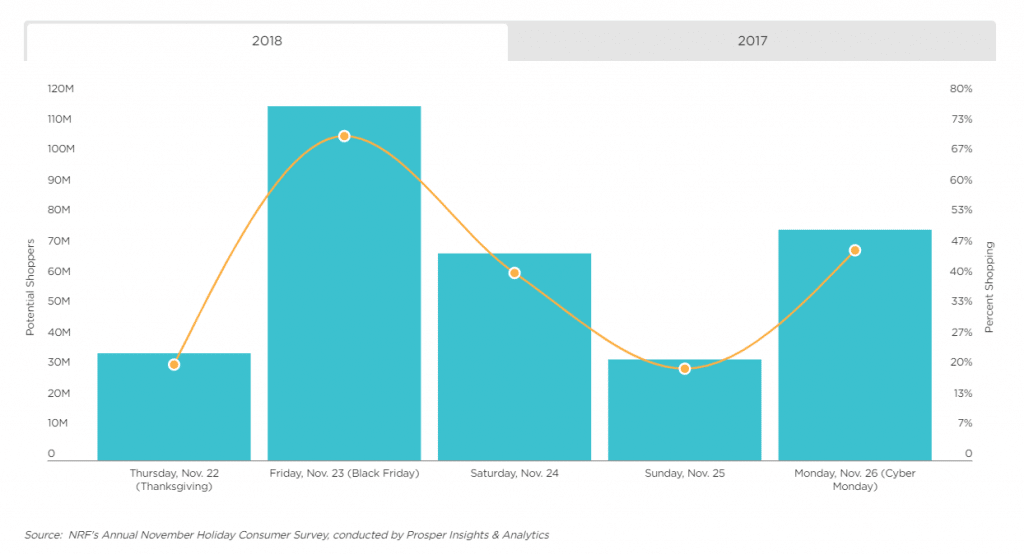 Top purchases over the 2018 holiday weekend included: apparel (57%), toys (34%), books and video games (29%), electronics (26%), and gift cards (20%).
It's important to note that the multichannel shopper outspent the single-channel shopper by $93 on average in 2018.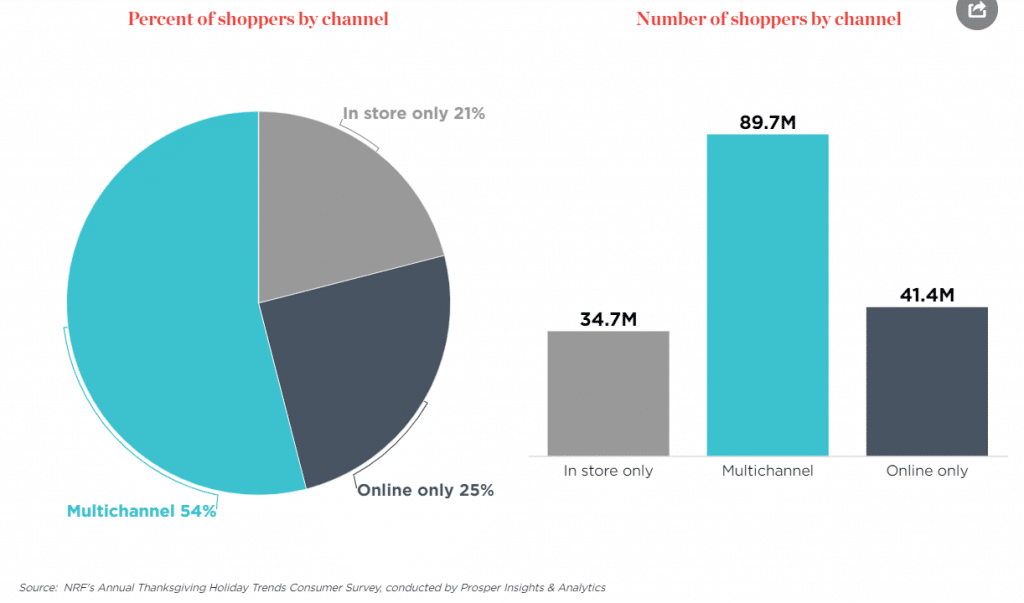 This year, the majority of shoppers are planning to start their shopping in-store (47%) compared with those who are planning to start online (41%).
The following are the top reasons that people plan to shop this holiday weekend:
65% of shoppers state that it is because the deals are too good to pass up
28% say that it is due to tradition
22% state that they like to begin their holiday shopping during the weekend
21% of shoppers say that it gives them something to do
17% state that it's a group activity with their friends/family
Keep reading to find out how you can take advantage of these trends and increase your retail sales this upcoming holiday weekend!
6 Retail Store Marketing Tips
1) Assess your Online Presence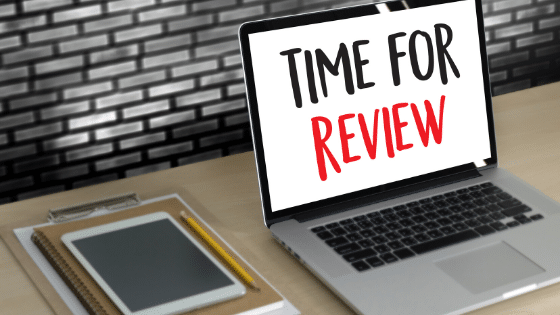 Recent consumer research shows that nowadays, shoppers are conducting Google searches prior to visiting retail stores. In other words, online information is what drives shoppers to purchase in-store. So even if you do not have an online store, it's important to assess and revamp your online presence prior to the Thanksgiving weekend.
If your business cannot easily be found online, there's a large chance that you are losing out on potential shoppers. So here is a quick checklist that will help you assess how your retail store appears online:
Check to see if you business information and holiday hours are updated on Google My Business. You can use tools like Yext to run a scan of how your business appears on listings/online directories across the web (Google, Yahoo, Bing etc).
Ensure that your website is mobile-friendly – mobile friendliness is a major ranking factor used by Google when deciding how to rank your website. You can use Google's Mobile-Friendly test to check the mobile-responsiveness of your website.
Check review platforms like Google My Business and Yelp and make sure you are consistently replying to customer reviews. You'll want to ensure that your customers are regularly leaving reviews as 90% of customers read online reviews before visiting a business. Click here to find out how you can gather more positive reviews for your retail business.

2) Engage Shoppers After the Weekend is Over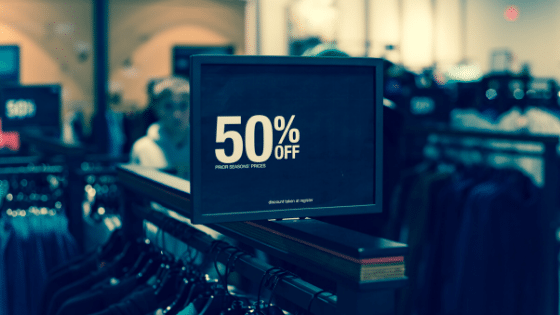 Over 56% of 2018 Black Friday shoppers still had holiday shopping to complete after the weekend was over. And the majority of shoppers (92%) believed that the strong deals offered over the weekend would continue or improve throughout the rest of the holiday season.
So, in order to capture this chunk of customers, it's a good idea to run sales and promotions post Black Friday weekend. Not only will you be able to draw in more shoppers and sales, this strategy will also help you get rid of any slow moving or remaining stock.
To reach as many shoppers as possible, take advantage of email marketing and other digital marketing tools to promote your post Black Friday and Cyber Monday deals!
3) Partner Up with a Local Business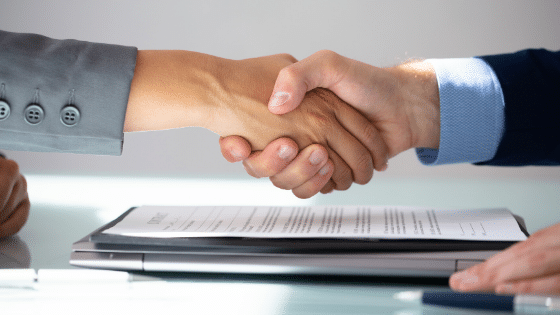 As a small retailer, it's hard to compete with big-box stores on Black Friday – slashing your prices in an attempt to increase traffic and sales just isn't good for your margins. But with 65% of shoppers crediting good deals as their main motivation for Black Friday shopping, you still need to find ways to stand out.
By partnering with local businesses, you can provide unique deals that shoppers will have a hard time passing up. And this way, you don't have to risk low profit margins. In fact, you can still sell products at regular price or even at a premium.
The best collaboration strategies include:
Selling products in bundles: Packaging products that complement each other in one product bundle is a great way to increase your store's average order value. For example, pairing three lipstick shades with a skincare product or, bundling sweaters with a free bag. In order for this strategy to work, it's obviously a good idea to partner with a store that sells complementary products.
Offer partner promotions/discounts: Another effective strategy includes cross-promoting. For example, shoppers will receive 10% off of total sale or free shipping at your partner's business when they purchase $50 or more at your store. You can print promotional material on your receipts and customers can use this as a voucher.
Host Events: You can also team up with local businesses to host special events. For example, you could partner up with a restaurant to host a late-night open house or extended seasonal hours. Remember a good chunk of shoppers view Black Friday as something fun – 17% of shoppers see it as a group activity with their friends/family and 21% of shoppers say that it gives them something to do.
4) Offer Exclusive Benefits to VIP Shoppers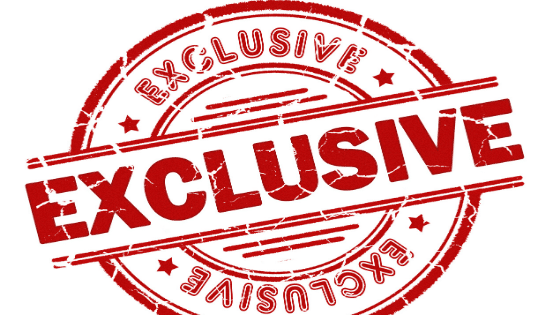 Black Friday is a great opportunity to strengthen your brand's engagement with your loyal shoppers. After all, they are your target customers and the ones that are the most interested in your products.
By introducing the idea of exclusivity in your email marketing campaigns, you trigger psychological rewards like a sense of belonging and importance. This is why exclusivity makes your promotional offers appear more attractive to shoppers and encourages them to visit your store.
Remember – shoppers are bombarded with emails during this time of the year. So make your emails stand out with:
a clear incentive in the subject line (for example: Exclusive VIP Sale)
a personalised subject line (personalized subject lines are 26% more likely to be opened). Alternatively, you could include the shoppers first name in the email opening line.
a short, simple, and to the point message.
5) Promote Scarcity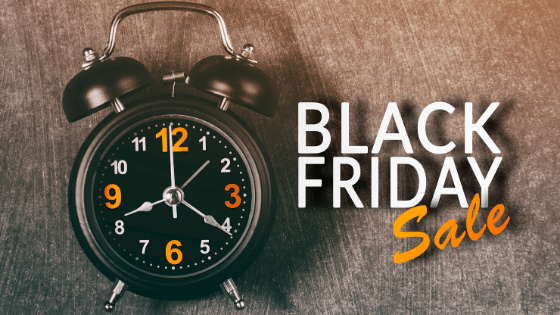 As mentioned above, the majority of shoppers (92%) believe that strong deals will be offered all throughout the holiday season. And with so many competitors offering deals during the weekend, shoppers are left with a lot of decisions to make. That's why it's necessary to create a sense a urgency with your Black Friday marketing campaigns.
Urgency and scarcity are widely used marketing tools in retail. And for good reason – creating a sense of urgency in shoppers increases demand and ultimately leads to more purchases.
The following are some strategies that you can employ to incentivize shoppers to act fast:
Set Deadlines: Create an incentive for shoppers to take action by running your promotions for a limited time. One effective way to create time pressure is to include a countdown timer on your website or in your email campaign. Show your shoppers how many days, hours, and minutes are remaining for them to get a deal on their favorite items.
Use FOMO (or fear of missing out): Scarcity drives shoppers to take action. In order to promote scarcity, it's a good idea to highlight that certain items are limited or low in stock on your e-commerce site. If you do not have an online store, it's a good idea to run Google Local Inventory Ads and specify that certain items have "limited availability". You can do so by adjusting the input for the availability attribute for all relevant products.
6) Run Google Local Inventory Ads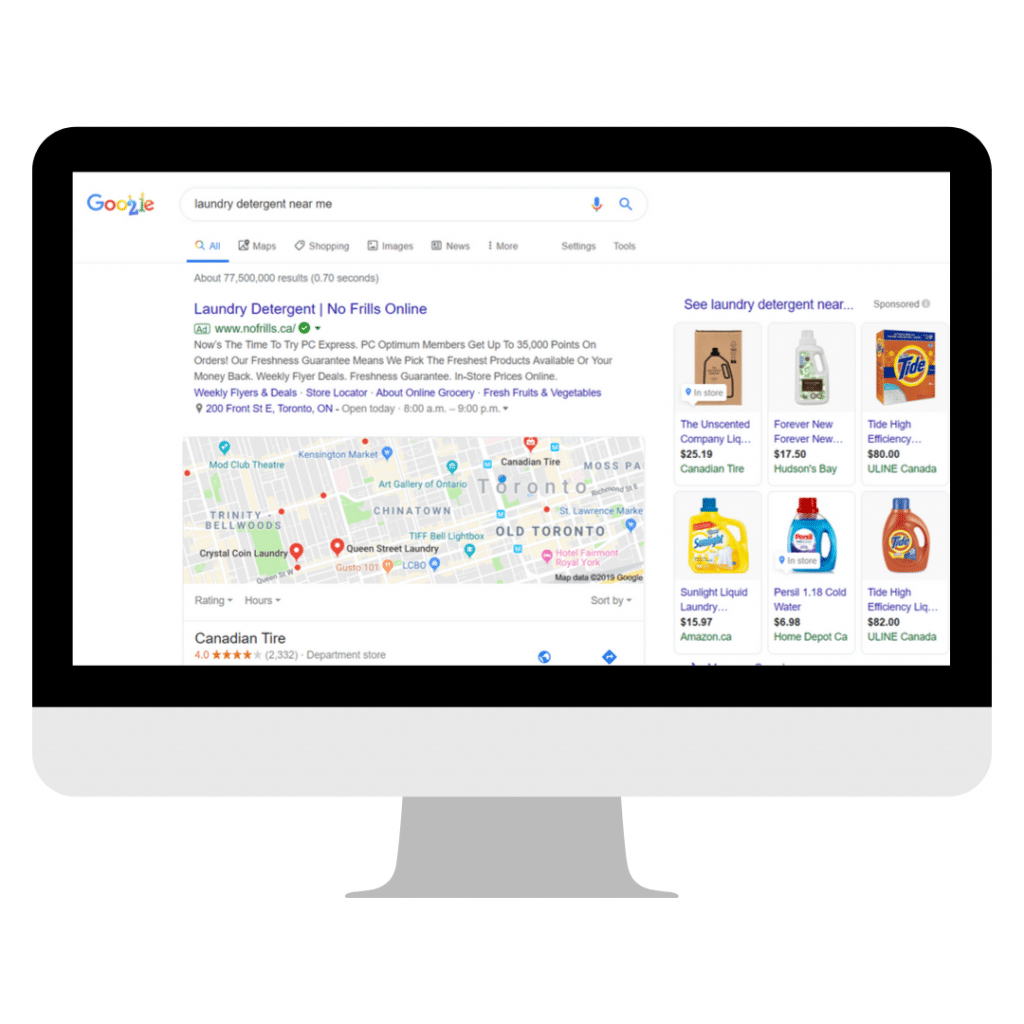 Multichannel and omnichannel shopping are quickly becoming the new reality of retail:
It turns out that these shoppers are more valuable too. According to the NRF, shoppers who used more than one way to look for deals spent up to $93 more than the single channel shopper. And according to a study done by IDC, multi-channel shoppers have a 30% higher lifetime value than those shoppers that only purchase from one channel.
This Black Friday weekend, you can get in front of these multi-channel shoppers with Google Local Inventory Ads. These ads work by targeting nearby shoppers who are searching online for products that your store sells. Google LIAs are effective because they capture shopper intent at the moment that they are looking to purchase.
Click here to learn how your store can easily implement Google LIAs together with your POS system to increase store sales and foot traffic.
---
Good luck and have a Happy Thanksgiving weekend!
Subscribe to our blog for more holiday marketing tips.
#blackfriday #marketingtips #retailmarketing #holidaymarketing #increasestoresales